HSBC has joined up with the International Union for Conservation of Nature (IUCN) to restore the Warawewa Village tank for livelihood development and enhancement of the ecosystem.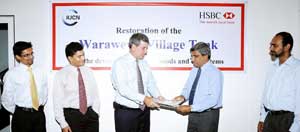 Picture shows Nick Nicolaou, Chief Executive Officer, HSBC Sri Lanka and Maldives (left) and Dr. Ranjith Mahindapala, Country Representative of IUCN (right) after the agreement was initialled.
The Warawewa Reservoir in Chilaw, is in a state of disuse due to poor maintenance, according to an HSBC statement announcing the alliance. With the restoration of the tank, it will provide the nearby communities access to water, with approximately 70 families benefiting.
Also, the tank will support the production of around 50 acres of paddy within the surrounding areas, making livelihood's more sustainable, it said saying an official agreement between between HSBC and IUCN was signed recently.
The project, aiming to see its completion in two years, will de-silt the reservoir beds, strengthen the bund, repair other irrigation structures, improve irrigation channels leading to the paddy fields, restore the vegetation cover with the use of native species, reduce soil erosion and establish bio-diversity refuges to name a few.
In addition, the project will help improve the livelihood of surrounding communities, with the establishment of 40 home gardens, and training women from 10 families on reed based handicrafts. These initiatives will be aptly supported by the National Handcraft Board and the Wilpotha Women's Savings Effort.