A 640 million-rupee worth project is for the taking with Cashew Nut Shell Liquid (Oil) (CNSL) added with some other substance being used as an effective non-toxic wood preservative. The Industrial Technology Institute (ITI), a premier state science and research agency in 2007, entered into an MOU with the Sri Lanka Cashew Corporation(SLCC) to do research on CNSL that is available with SLCC to be converted into a wood preservative.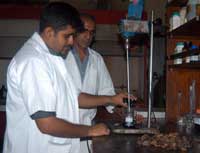 Seen here are Dineth Samarawickrama (left) and Srilal Motha with the Cashew nut Shell Liquid based wood preservative preparation at the ITI lab in Colombo. Pic by Ranjith Perera.
The task was entrusted to the Materials Technology Section, ITI headed by Srilal Motha, Head, Materials Technology Section and a team of scientists including Mr Motha commenced work on this project. The other members of the team are Saman Weeraratne (Leader in the CNSL project), Dineth Samarawickrama and A. S. K. de Alwis.
A team from Business Times which is serializing novel, commercially-oriented inventions of the ITI was at hand last week to obtain the details of this novel invention of wood preservatives that would soon be available in the market. Information was provided by Mr Motha and Mr Samarawickrama. Mr Motha said that the product won a presidential award and is now patented and awaiting an investor to undertake the marketing of the product.
He said that the annual estimated CNSL is around 1,866 metric tons, extracted from around 4,000 metric tons of Cashew nut shells and in the preparation of the wood preservation half CNSL and half other substance would be used.
He said that market potential and price structure of the end product also was assessed and said that as their wood preservative is environmentally friendly and non-toxic and low priced, it could compete and dominate the market . He said that commercial wood preservatives now available in the market contain ingredients that are considered toxic, which would be potentially dangerous to human health and safety. The NCSL novel wood preservative formula representing the third generation of wood preservatives is comparatively safer as the product is almost entirely organic.
He said that this wood preservative could also gain a lucrative overseas market and to attain this end they would seek international patents, as CNSL is available in other countries too. He said that this is possible as several European countries would soon require totally organic third generation systems and non-metallic wood preservatives for residential applications.
The CNSL WP formula, according to Mr Motha is easy to prepare and is effective against termites, wood rot causing micro-organisms and decay causing fungi when evaluated with wood samples treated with this solution.
Mr Motha enumerated several advantages attributed to the New Wood Preservative formula. He said that it could be prepared relatively at low cost. He said that what is presently available in the market is a litre at around Rs 200 according to their research but their new formula could be marketed at a price of around Rs 160 per litre.
He said that it is formulated using several relatively non-toxic compounds which could be recommended as eco-friendly. It prevents the attack of termites and wood rot causing microorganisms on wood by exerting a repelling action upon them. It inhibits the growth of fungi on wood and prevents its attack.
Mr Samarawickrama said that it has been shown that CNSL does not act by killing the termites but is rather linked to the possibility that the compounds made the wood unpalatable for termites, a repellent.
The antioxidant prevents free-radical degradation generated by microbial action upon wood while another ingredient inhibits the growth of fungi. He said that the colour of the coating of wood preservative depends on the type of wood. It gives light colours with light wood and relatively dark colours with hard wood. The skin sensitivity of NCSL is reduced to a tolerable level using a suitable additive.
Though there was no proper machinery to provide adequate exposure and much needed publicity for many of the commercially viable innovative inventions this mammoth science agency makes, most of them have been undertaken by entrepreneurs and taken to the market place.
Among these commercially viable inventions, Business Times has featured two of them on lime and on coconut waste (Polkudu), the later could invade the world market due to its uniqueness for heart treatment.
In the past too, this newspaper has featured several ITI inventions like the high bred rice varieties containing more iron to dispel the sleepiness after eating rice; development of coconut paste, bottling of coconut milk and an innovative apparatus to dehydrate vegetable and fruits.
Another innovative product featured earlier is the use of Coconut coir pith (Kohubath) to remove oil from water that can be used in factories and other places that emit oil-mixed water – a major environmental hazard. ITI has entered into a 10 year contract with a Japanese Firm in marketing this product. The contract will be over in 2015. Await a line-up of more innovative inventions by ITI in these columns.