The outbreak of dengue which usually takes place in January and February, has taken its toll once again with more than 1,200 cases reported in the past two months. Colombo, Puttalam, Gampaha, Kalutara, Kurunegala, Jaffna, Polonaruwa and Batticaloa have reported the highest number of cases in February 2011.
The Colombo district reported 134 cases, Puttalam 33 cases, Gampaha 32 cases , Kalutara 20 cases, Kurunegala 20 cases, Jaffna 19 cases, Polonaruwa 15 cases and Batticaloa 12 cases. A total of 1,245 persons have been affected with the Dengue Haemorrhagic Fever (DHF) in the year 2011, whereas only 893 cases were reported in January and 352 in February of 2011.
Health authorities are concerned about the high number of cases reported in the Colombo district as it has a high floating population. The Chief Medical Officer of Health of the Colombo Municipal Council Dr. Pradeep Kariyawasam told the Sunday Times on Friday that 245 patients had been hospitalised with suspected Dengue Haemorrhagic Fever (DHF). Around 134 of them have been confirmed he said.
This year Grandpass has been seen to be one of the leading vulnerable areas with a large number of DHF afflicted patients. Last year Slave Island was the worst affected area.
Thimbirigasyaya, Pamankada, Havelock Town, Bambalapitiya, Aluthkade and Modera are among other areas affected by Dengue. Dr.Kariyawasam said "Colombo Central had the largest number of patients affected by dengue fever".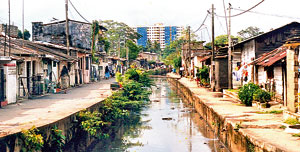 It is believed a cause for this is the unhygienic conditions in the shanties and slum dwellings where a large number of people live.
Statistics available showed 40% of patients as being from the Colombo Central area. It is believed a cause for this is the unhygienic conditions in the shanties and slum dwellings where a large number of people live.
School children have been found to be among the most vulnerable group. The highest number of incidences was reported to be from the age group of infants to those up to 20 years of age. Dr. Kariyawasam said sanitation and solid waste management levels in the Grandpass and Slave Island areas were nearly non existent and he considered this to be one of the main reasons the area was vulnerable to DHF.
He noted last year the epidemic was controlled to an extent as the city was cleaned up with the help of the security forces and the environment police. Unfortunately this year this same situation was found to exist in areas such as Grandpass, Stacepura, Kamkarupura and Navagampura.
In areas adjoining the Kettarama and Sugathadasa stadiums people tended to collect used tyres for resale and this created breeding grounds for mosquitoes. The MOH emphasized that most countries in the world did not import used tyres due to the danger they posed as mosquito breeding grounds. Empty yoghurt cups, coconut shells, blocked gutters, discarded plastic (sili sili) bags were all potential breeding grounds for the dengue mosquito.
While the health department and the CMC authorities conducted anti-dengue campaigns in schools last year, these programmes did not extend to areas neighbouring the schools. Resultantly mosquito breeding grounds adjoining the schools were not cleared and the percentage of school children afflicted with the disease did not decrease.
The chief MOH added dengue is considered an urban disease as most cases come from the poorer areas –shanties and slums-- in cities. He added the up market areas within cities were less affected as the people in those areas had learned to dispose of their garbage. Unfortunately the poorer folk had still not found a way to methodically dispose of their garbage and keep their surroundings clean. He mentioned an instance where after garbage vans collected the refuse at Stacepura, people soon littered the place.
He blamed the people in affected areas saying they were careless and did not worry about health problems they created by dumping refuse indiscriminately. To face this problem the Colombo Municipal Council together with the environment police is to commence an awareness programme including a house-to-house campaign to instruct residents on garbage disposal as well as filing cases against those who dump garbage by the road-side.
The CMC has four tractors used only to collect garbage containers. Additionally possible mosquito breeding centres will be sprayed and BTI bacteria will be released in all affected areas of the city.
In view of the forthcoming world cup most of these preventive measures are being concentrated in the vicinity of the Kettarama stadium he said.
Dr. Kariyawasam said the CMC had only 32 Public Health Inspectors (PHIs) and 60 instructors to cover the120,000 residences/institutions and 80,000 plots of land. Covering all areas was therefore difficult he said.
Dr. Kariyawasam warned that PHIs had been empowered to enter all premises for inspection. If they discovered possible spots for breeding of mosquitoes, notice would be issued against the owners.