The farming community of Puttalam district is reeling from the devastation of the recent floods, which have destroyed homes and paddy fields, their only source of income. The farmers' tales are of heartbreak and misery. These days they are left with little to do but grieve over losses that run into lakhs of rupees, while hoping the next season will be free of catastrophe.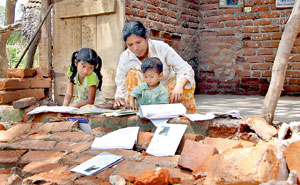 Families put on a brave face in the face of hardship. Pix by Hiran Priyankara Jayasinghe
P. M. Kumudini Mallika said she had struggled for three months to obtain bank loans and get her fields ready for the harvest, and now everything has been swept away with the floods. Direct rainfall and the overflow from opened sluice gates and tank bunds that had burst have submerged some 6,000 acres of paddy land in the Puttalam district. Rain water has drowned 400 acres in the Kottukachchiya region of Anamaduwa, and tank water released from the Inginimitiya reservoirs has covered hundreds more acres.
P. D. Nandakumara, secretary of the Ethungoda Farmers' Association, said cultivators in the area seldom or never bothered the state for help, even though there was not enough water when cultivation began last year for the current season.
Many farmers had invested large sums of money to purchase equipment, including electric-powered items. Now they are in desperate need of state assistance and the flood relief being distributed to farmers in other parts of the country, Mr. Nandakumara said.
"We have never had to buy rice from outside before," said farmer R. D. Nandasena. "In previous years, we supplied lakhs' worth of rice to others. Today we have nothing of our own to show or share."
The farmers said they were having a hard time getting government officers to come and see for themselves the devastation, and feared it would be even harder to get state relief. One farmer said indifference on the part of the authorities could result in the government losing votes from the farming community. Farmers' Association member N. Gunerathne told the Sunday Times that cultivators took loans in the expectation of repaying them with the harvest. Now that the harvest is lost, the farmers are helpless. Many farmers fear they will have to sell property and other assets to cope.
Hungry and stranded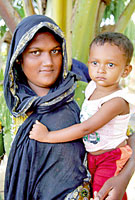 Nizmia and family suffered greatly.
In the Wanathavilluwa part of Puttalam district, paddy fields and property had come under three feet of water, drowning livestock and crops. luwankulama resident M. C. Nizmia said she and her family had had no access to food.
"We lost our crops and our cattle, and we were hungry for days," she told the Sunday Times. Ms. Nizmia said it was the worst flooding in 15 years, and families were not prepared for such a huge disaster.
Her husband fishes in the Serankuliya Lagoon for a living and her mother works as a labourer.
Another resident, Mrs. S. Wijayaletchimi, said her house had collapsed under the impact of the rains. She said she could not see how she could rebuild her life again.
Asked what relief measures could be expected, Major T. Wudler of the Puttalam branch of the Centre for Disaster Management said the situation was serious, and that urgent relief measures were under consideration.- H. P. J.
Scenes of suffering and heartbreak
Jayarathna Wickremarachchi
Sri Lanka is reeling from the worst natural disaster to hit the island since the 2004 tsunami.
Tens of thousands have lost their homes, property, and cultivated lands. The widespread destruction has already had an impact on the economy. Prices of rice, vegetables and other foodstuffs and household items have soared – affecting everyone, and not only the farmers.
The effects of the floods are being felt at every turn. Displaced persons remain in refugee camps and shelters, heavily dependent on charity. Education has been disrupted, as schools remain closed. Residents are seen returning to what remains of their homes to recover whatever is left. Flood victims are grateful for the relief they are receiving, but say the relief needs to go beyond just dry rations.
Housing is a major problem, and homeless families are hoping and praying that they will soon have a proper over their heads. Help of any kind, from any quarter, is welcome, they say.
Many flood victims and observers also say the natural catastrophe is the result of human meddling. Do not meddle with nature, for nature will hit back, as it has recently done, they say.
Dimbulagala flood relief 'stolen'
By Indumathi Jayasena
As floodwaters started to subside, anger surfaced as soon as Polonnaruwa farmers and villagers discovered that state relief meant for them had gone to affluent shop owners instead.
Residents from 10 villages in Dimbulagala, Polonnaruwa, launched a protest campaign last week. They demanded to know why they had not received stocks of food and other goods stored at the Dimbulagala Divisional Secretary's office. They said these goods were meant for distribution among flood victims.
"In the past, flood relief from individuals and organisations was distributed directly to the people," said Saman Ratna Jayakody, 42, one of the indignant protesters. "This time the government has not allowed direct distribution. They want the goods released as if the goods were coming from the government. This is to look good ahead of the local elections.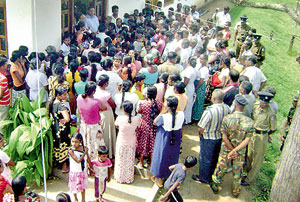 Hue and cry as Dimbulagala residents accuse state officers of taking their relief packages. Pic by Indumathi Jayasena
"The instructions were that the goods were to be handed over to the District Secretary and that these would in turn be handed over to the Divisional Secretary for distribution. Instead, through political influence, the relief items have gone to certain favoured parties," Mr. Jayakody said.
"Our question is this – how come the second wealthiest person in Polonnaruwa became a recipient of flood relief, when genuine flood victims have received nothing?" Mr. Jayakody added that the Divisional Secretary had given instructions that no relief be given to those who had joined in the protest.
It is understood that an office assistant at the Dimbulagala Divisional Secretary's office has been interdicted on allegations that he had leaked out details of the flood relief distribution.
Meanwhile, District Secetary Nimal Abeysiri told the Sunday Times that flood relief distribution was done according to lists endorsed by the respective Grama Sevakas and the Divisional Secretary. He said the allegations of wrongful distribution would be looked into. "We have not received sufficient aid to distribute to all," said Additional District Secretary M. G. Panditharatna. "We did not receive large amounts of aid for distribution, not as much as the residents think."
Flood victim W. T. Lilani, 27 years, who said she lost everything when her house went under six feet of water, claimed she had received just one kilo of rice, one kilo of dhal, one kilo of sugar, and one packet of noodles.
She said she had been "robbed" by certain state officers who had taken aid that was meant for her.
Dimbulagala head monk, the Venerable Dimbulagala Janathalankara Thera, had intervened on behalf of the protesters. He told the Sunday Times that he had met the Pradeshiya Secretary, who claimed that 100 bags of relief items had been distributed among 56 families. It is understood that some 1,000 persons who had taken part in the protest had not received any relief package.
According to Gallella resident Nimal Gunerathne, 25 years, a large volume of relief items, including bottled water, had arrived in the area, and accused certain government officers of helping themselves to relief supplies.
He said flood relief officers were seen removing relief items and piling them in three-wheel vehicles heading to unknown destinations.
Polonnaruwa district was one of the worst-affected areas during the two recent floods. In the first wave of rains, the water level had risen to 15 feet along the Gallela-Mampitiya road, while the second flooding pushed the water level above the rail tracks, going up as high as 20 feet. Railway travel had to be suspended until the waters subsided.