Shop owners around the Mahinda Rajapaksa Cricket Stadium in Sooriyawewa have been told by the police to put on sale large king coconuts, bananas and full grown vegetables to create a good impression among foreign visitors for the World Cup matches.
Residents told the Sunday Times the police had advised them also to dress the children in 'Lama Sariya' (traditional dress for girls) or other national outfits when they take them on the roads while the matches are played.
The newly built stadium will be hosting two matches – the Sri Lanka-Canada match today and the Pakistan-Kenya match on Wednesday.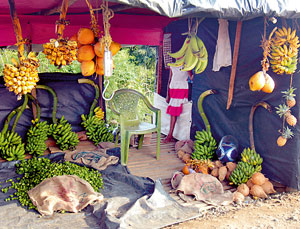 Gearing up for the World Cup