Haburugala, Horawala passing beautiful Dedduwa Lake off Bentara Ganga is one of the most attractive and magnificent scenes in the South Western tourism segment. Just ten km away from the busy tourist hub Bentota on Elpitiya Road, which located 'Mangrove Serenity' on a typical rural setting by the banks of Bentara Ganga.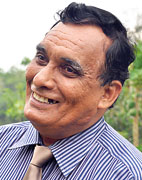 Manager Carlyle Hannibalsz
The Resort 'Mangrove Serenity' located on eight acre forestry land surrounded by mangroves and rubber, tea, coconut and herbal plantation, creates a different atmosphere from the usual holiday mood. The Resort categorized as a Small charming Boutique Hotel, is just one year old.
It has seven tastefully furnished rooms, modern restaurant with view, a beautiful Ayurvedic therapy house and three differently categorized swimming pools. The main swimming pool is located close to the hotel, while the rock pool with natural flow of water is more toward the special therapy house and the third one is the rooftop Hydrotherapy pool.
'Our main aim is offering quality Ayurvedic treatments to guests and we are geared towards that. Most of our visitors are coming for the treatment and their cusine too is designed according to the medical requirements' said Carlyle Hannibalsz, the Manager of the 'Mangrove Serenity'.
Apart from the guests for Ayurvedic treatments, many holiday makers too vist the place looking for tranquility and peace of mind. 'This place is meant for sheer relaxation of both physical and mind' added Hector the Manager of the Ayurveda House.
'Mangrove Serenity' impress among other things by an extraordinary architecture, harmonious colours, fantastic objects and a special energy which penetrates all in an agreeable and clever way. But also the variety of plants in the garden, the furniture made exclusively of massive wood and the extraordinary decors reveal the attention of the architect to detail and harmony.
'It will be difficult to resist our 'Restaurant' which has a great view to the river, flexible meal times. Our 'a la carte' menu provides guests a big choice of International food, Sri Lankan food and Seafood and many preparations are home made. Also diners will enjoy the great and original presentation of the meals which are made with the best ingredients' said the chef Dissanayake.
Fresh pressed fruit juices from the area is one of the attractions of the beverages list, while, authentic organic dishes from the region is a favourite preparation of Chef Dissanayake. Among the many other attractions within easy reach are wide variety of water sports, boat tours wild tours in Sinharaja, which is just one hour drive from the hotel, bird watching jogging and cycling track along the river bund and ferry tour across Bentara Ganga.
'Mangrove Serenity' is owned and managed by Foster and Reed (Pvt) Ltd., the famous swimming pool builders. The prices range from Rs 15,000/- to 22,000/- per head on BB basis at the 'Mangrove Serenity Resort'.
For more details log on to mangroveserinity.com or call 0777730400 or 034 3747099.