On the Fifteenth of February 2008 a 24 year old 4th year undergraduate of the faculty of medicine, named Samitha Samanmali became the victim of a tragic accident that occurred while preparing for the Dayata Kirula Exhibition at the Bandaranaike Memorial International Conference Hall.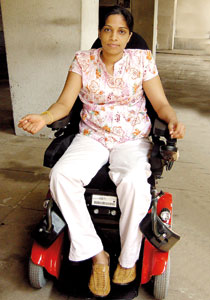 Samitha Samanmali
While rushing into a temporary steel tent away from the pouring rain, she was terrified to find the structure collapse above her. Samitha was trapped between the iron rods and one falling pole hit her head causing severe damage to her spinal cord.
Although her vertebral column was fixed through extensive surgery, she lost control of her own body below the chest level. Samitha's lower body was paralyzed for life. Now, three years later she has completed her MBBS at the University of Colombo and is waiting expectantly to take on the many challenges of life.
Samitha is the youngest in a family of four. Born and raised in Makuluduwa, a village home to Piliyandala she, being accepted to the medical faculty, was the pride of her family. The terrible incident left Samitha's family helpless and in despair.
Samitha confesses that her mother has still not recovered from the shock and has still not come into terms with her current condition. A strong survivor Samitha refuses to give up on life. She believes that we are fenced in an idea that portrays being differently abled as being helpless and lost. It is her view that once you accept your situation, there is nothing that stops you from pursuing your dreams. She manages by herself in almost all day to day tasks. The electronic wheelchair donated to Samitha by the CIC makes it easier for her to travel from place to place. "The use of mobility makes me feel more independent because I am relaxed and I can go about faster"
Samitha contrary to what one might expect of a paralyzed young woman is positive and determined to change the negative attitude projected toward the disabled. She is pleasant and smiling even as she talks of her role as a doctor and the shortcomings of being differently abled. "I am handicapped and I cannot perform certain tasks that the other doctors can. But I can still help people. I can heal them". Samitha talks of an incident at the hospital where she met a patient who too was paralysed below the chest. She spoke kindly and encouragingly to the young man who in turn told her how it was easier to talk of his condition with someone who "felt" what he did. This inspired the blossoming doctor to someday specialize in a field that dealt with neurology. She is also interested in taking part in rehabilitation and aid for handicapped individuals. Samitha is driven to care for and support people faced with disabilities.
She is grateful to all who helped her through the tragedy, especially her colleagues and the university staff. She also mentions the immense media support she received and the financial aid given to her mostly by the general public. She further wishes to thank the President, His Excellency Mahinda Rajapakse, Mr. Upali Rajapakse, Mr. Wijayadasa Rajapakse, Mr. Arupragasam and the medical faculty staff.
We wish her well in all her future endeavours. If you wish to help Samitha please contact her on samitha_samanmali@yahoo.com.