The prices of essential commodities such as vegetables, fruits and fuel have been back-breaking for the average Sri Lankan. Even as the government attributed the price rise to recent bouts of floods, those reeling under the cost of living seemed to have had enough in the first five weeks of the year.
Interestingly, however, while the floods affected 576,121 acres of paddy lands (assessment of the Disaster Management Ministry), pushing the government to release 25,000 metric tonnes of buffer stock to the market, the prices of paddy grains in government records showed insignificant increase in the past weeks.
| | |
| --- | --- |
| | |
| Samanthi Ranasinghe: Chopping cabbage leaves and making small packets before selling them | M. Rizwan at Thotalanga fair: High vegetable prices so poor sales |
The Agriculture Ministry estimated that 160,000 acres of paddy fields were washed away and 90 per cent of cultivated crops such as black grams damaged in certain districts. The average retail price of Samba rice in the Colombo markets was Rs 70 a kilogram last week, according to the Department of Census and Statistics (DoCS). Prices usually range from Rs 50 to Rs 60.
Last week, the Sunday Times interviewed grocery sellers, vegetable traders, small hoteliers, construction workers and homemakers among others in Colombo and in the provinces for their accounts of the situation. The newspaper also spoke with government representatives for their responses. The effect of inflation on purchasing power is indicated in a graphic.
Five most basic commodities and their price rise have been highlighted for the first five weeks of 2011 and the corresponding period last year. The data was provided by a government body, the Colombo-based Hector Kobbekaduwa Agrarian Research and Training Institute.
Voices from the streets
A vegetable shop on Colombo's Duplication Road was empty by afternoon, last Tuesday. According to its owners who sat idle behind the cash box, their wholesale supplies from Pettah were scanty that morning while the prices of the few vegetables they bought were steep.
Later in the same day, empty plastic crates meant for onions, greeted us at the Food City outlet on Jawatta Road. The following day, we visited Jatika Pola (people's market) in the city's Narahenpita area where a kilogram of carrot or string beans was being sold at Rs 120.
The price of a kilogram of green chillies was Rs 400 last Wednesday. Vegetable vendor Gamini Wijetunga, 43, said: "People are buying fewer vegetables these days. So, we reduce prices by a few rupees whenever they buy a kilogram or more."
"We sell rice at the maximum price the government has imposed because doing otherwise will get us into trouble. But we don't get any profit out of it," said W Nawaratne, 50, who runs a grocery store in the market. He hardly made a profit in the past weeks, buying rice at Rs 70 and selling it at the same price. He blamed it all on the floods.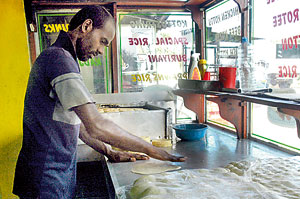 It's hard times for kottu seller Mohommad Iqbal. Pix by Saman Kariyawasam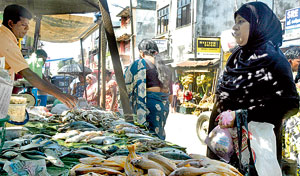 It's high prices for fish too
According to M. Priyantha, 46, the floods in Australia too had impacted the prices of imported items such as dhal. "Earlier we sold dhal at Rs 125 to Rs 135 a kilogram. Now it is between Rs 140 to Rs 160." He too owns a grocery shop at the market.
At the relatively inexpensive market, Thotalanga Fair a few kilometres away from Jatika Pola, we met 33-year-old vegetable vendor M. Rizwan last Wednesday. "I don't bring red onions to the market because we can't sell them as the prices are high. People go for alternatives," he said.
Samanthi Ranasinghe, 36, said she had come up with an innovative idea when she realized that people were not buying them at Rs 120 a kilogram. "I buy the outer leaves of the cabbage for Rs100 a gunny bag and then I slice the leaves into small pieces, and make packets of 300 grams each in small bags and sell each one for Rs. 20." The vendor claimed that the demand for her small bags was high with most consumers looking for cheaper vegetables.
A 32-year-old resident of Thotalanga, U. G. Kumudini also told us that these days she avoided buying high-priced vegetables. "My husband is the only breadwinner in the family. What we can afford is very little with the cost of living increasing," she said.
Similar sentiments were expressed by 29-year-old Seuwandi Muthumali of Nawala. "We eat only potatoes and other cheap vegetables." According to this homemaker, leeks have replaced onions in her kitchen because onions were too expensive. There were others who told us that banana flower or unripe jak fruit were in demand as they were the cheaper vegetables.
During our visits to the markets last week, we witnessed the desperation of vendors trying to sell old vegetables by removing the outer skins, in a bid to make them look what they were not, wholesome and fresh. We also noticed vendors misleading consumers. Instead of quoting the price of a kilogram, they usually announced prices of just 250 grams.
The popular lunch packets have been hit hard by the price rise. Cheaper vegetables such as manioc have replaced expensive ones like beans. The quantity too has been reduced or in some cases even rates have increased by Rs 10 or Rs 15 per packet.
Last Thursday, a 28-year-old Kottu seller in Mattakkuliya told us that while his inventories had gone up, he had foregone profit to keep the business running. "Customers will go for alternatives if I increase prices," Mohommad Iqbal said.
A 32-year-old construction worker from Kotahena, V. Satya, told us last Thursday that he seldom found work these days. "The number of projects we get is low as people are not building houses these days. The work we get is mostly to repair houses which is not an income-generating avenue as much as building houses is."
"We don't get work at all for weeks and we go without an income throughout that period. Even if we get work, we are unable to quote a reasonable price that would balance the increasing cost of living with our income," he added.
The sentiments shared by those who were interviewed outside of Colombo, by the Sunday Times added to the picture of gloom. W Jude, a trader from Daluwa in Puttalam district blamed the government for making mandatory the use of plastic craters to transport vegetables from the fields to the markets.
"The government decision comes at the wrong time when vegetable prices are high too," he said adding that people in villages usually used empty fertilizer bags to transport vegetables to the markets. ccording to him, people could now transport lesser number of crates and would also have to find ways to carry the crates back home.
"What we've been doing is folding the bags or sacks and traveling back home in a public bus. The new system would mean that even the empty crates would need to be transported in a lorry, a three-wheeler or some other vehicle. This will add to our expenses," Mr. Jude said on Friday.
H. P. Mahindasiri, 53, a vegetable trader from Nuwara Eliya also told us that he had not seen a situation as bad as this in the last decade. "I have been involved in purchasing vegetables from farmers and sending them to the Dambulla market for the last 12 years. The current trend of price rise is alarming. We have not experienced this in the past few years."
Calling upon the government to rush relief to the farmers, Mr Mahindasiri said, "With help from the government, the farmers could cultivate again but they don't have any money now to do anything on their own without assistance."
Those associated with vegetable farming in the hill districts feared the situation would worsen in coming weeks.
Public subsidises, government takes credit
Following a meeting with President Mahinda Rajapaksa at Temple Trees last Friday, K E Karunathilake, secretary, Agriculture Ministry told us that prices of vegetables would reduce this week. "Now that the sunny weather is back we can expect the cost of vegetables to go down," Mr Karunathilake said.
He claimed his ministry would provide seeds for a quarter acre of land to each farmer affected by the floods. About 10,000 farmers would receive the seeds in coming weeks, he said. This measure would cost the public exchequer about Rs 20 million.
We asked the Agriculture Secretary why buffer stocks of rice had been released to the open market while the government maintained that there was no shortage. "Given the economic situation we had to take precaution. The trader community could manipulate prices," he said.
Provisional data from DoCS indicated that Sri Lanka's self-sufficiency in rice in 2010 was 113.91 per cent. High prices were not confined to vegetables. A kilogram of Thora fish cost Rs 1150 in shops last month-end as compared to Rs 822.63 in the corresponding period last year. Similarly, dried fish such as Balaya, priced at Rs 510.77 per kilogram (retail) in the fourth week of January 2010, sold at Rs 625.29 in the week before last.
Large coconuts were sold at Rs 56 a kilogram last week. They were in the range of Rs. 30 the corresponding period in 2010. Adding to the consumers' burden is the recent hike in fuel prices. A litre of petrol costs Rs 115 and diesel Rs 73. Sri Lanka's largest fuel retailer Lanka IOC was forced to increase rates of its fuels due to huge losses incurred due to escalations in international prices, authorities say.
"We have announced a price hike after 16 months," Titus Jayawardena, secretary, Petroleum Ministry, said adding that excise duties on imports by Lanka IOC and Ceylon Petroleum Corporation had been lowered by 10 per cent to enable them contain some of their losses.
"We gave concessions to fuel companies so that the public is not directly affected by increased prices," the petroleum secretary said. Interestingly, however, the public exchequer would have to bear Rs 4000 million loss against the reduction in excise duty component to the oil marketing companies. Sri Lanka pays $2500 million per year in importing petroleum products, 1/5th of its total imports.
The lack of a domestic mechanism to cushion volatilities in the global market compounds the consumer's problems. According to opposition parliamentarian and economist Harsha de Silva, the government was "trying to paint an incorrect picture." "There are two sides to this cost of living debate. The government says that prices have increased but so have incomes. The latter is not true," he said adding that peoples' incomes have not increased proportionally.
He contested the government's claim that poverty had been brought down to 7.6 per cent last year from 15.2 per cent in 2006. "This poverty index cannot be taken seriously for the simple reason that the entire north and parts of the east were left out from the poverty survey," Mr de Silva said.
The government's own records appeared to portray the real picture. According to the DoCS's preliminary report for 2009-10 on household incomes and expenditures, while there household income had increased by 35 per cent from two and half years earlier, the real income (after adjusting for inflation) for the same period had actually reduced by 2.5 per cent.
The sample size for this survey was 5,289 housing units in the country. Jaffna, Mannar, Killinochci and Mullaitivu were not included in the survey. Mr. de Silva accused the government of removing the vital information of "real incomes" in the DoCS document from the public domain last year.
The Sunday Times independently studied DoCS reports available on its website and found that in 2009, the mean household income (per month) was Rs 35,495 while the mean household expenditure (per month) was Rs 32,446.
In simple terms, such government data revealed that an average Sri Lankan was left with just Rs 3000 per month in 2009, between income and expenditure. By the end of September 2010, the Central Bank claimed the country's growth rate was eight per cent. For a post-war economy, it is arguably a healthy growth rate. Reflections of which however are invisible on the streets.
Inputs from provincial correspondents by Hiran Priyankara Jayasinghe and Shelton Hettiarachchi