Opposition Leader Ranil Wickremesinghe yesterday reiterated at a regional conference for parliamentarians, the UNP's call for senior members of the Opposition to chair the two Parliamentary oversight committees, the Public Accounts Committee (PAC) and the Committee on Public Enterprises (COPE) and the enactment of the promised Freedom of Information Act.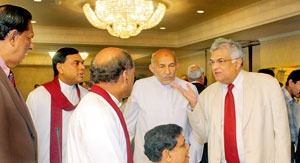 Opposition Leader Ranil Wickremesinghe sharing a point with Government ministers Basil Rajapaksa, NImal Siripala de Silva and Dinesh Gunewardene, Governor Alavi Mouland and UNP MP John Ameratunga at the CPA meeting yesterday.
Pic by Nilan Maligaspe
"India has public interest litigation which can challenge the corruption of the high and mighty, and also a Freedom of Information Act which promotes transparency in public matters. Sentiments have been expressed in India of the need to strengthen the Lok Sabha Committee system by making it mandatory for the government to report back to Parliament on the follow-up action, Mr. Wickremesinghe noted, when he spoke at the opening ceremony of the 3rd Commonwealth Parliamentary Association (CPA) Asian regional conference, where the Speaker of the Indian Parliament (Lok Sabha) Meira Kumar was the Guest of Honour.
The Opposition Leader added that they have also tabled a Resolution for the establishment of Oversight Committees in Parliament, because it has been found that the present Consultative Committees headed by the Ministers are ineffective.
"Corruption and bad governance brings about suffering for the people and decay of the State. Attempts to stifle probes and sweep corrupt activities under the carpet are not compatible with Democracy. Denial of basic rights, covering government activities in a veil of secrecy and establishing a Constitutional dictatorship, supposedly, for the purpose of furthering economic development and prosperity is also unacceptable," he added.
Mr. Wickremesinghe said India's vibrant democracy and its economic development contradict the theory that a country can achieve economic development only through autocratic means. "In fact, economic development becomes meaningful only when the people enjoy fundamental human rights," he said.
Indian Speaker Meira Kumar said that she believes parliamentarians have to take the lead in evolving a national consensus for empowering the poor in each of our countries, by displaying the political will to democratise and decentralise at a faster pace. "All of us have demonstrated an abiding faith in democracy, and our people have struggled to overcome every impediment in the way of democratic governance," she said.