A relative of a very influential police officer was among the four suspects who were fined Rs. 2,500 each by the Dambulla Magistrate Maheshika Danansuriya after they were charged with selling fuel without a licence.
Their racket came to light after Central Province Deputy Inspector General Gamini Nawaratna, received a petition that Ceylon Petroleum Corporation bowsers were surreptitiously unloading fuel stocks at four locations along the Dambulla-Habarana Road including at Diganpathaha. The petition said the area police were not taking action despite evidence.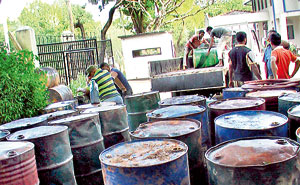 Some of the pilfered barrels of fuel
DIG Nawaratna detailed a special police team which conducted the raid at the four locations simultaneously. At the time of the raid a bowser was seen leaving the location. The police team detected 3150 litres of diesel at the first location, 1890 litres at the second and 1680 litres at the third while they found 60 litres of petrol at the fourth place.
Legal sources said police had made little or no attempt to ascertain how the suspects came into possession of such a large quantity of fuel although the detectives who took part in the raid took into custody equipment used in the pilfering of fuel from CPC bowsers.
They asked whether the policemen who carried out the raid had come under pressure to mitigate the charges because one of the suspects was connected to a senior police officer. The suspects were identified as P.H. Perera, E.I.B. Ekanayaka, S.A.D. Wasantha and J.M. Gunasena.