So – the hot literary news of the past week was actually a damper – the abrupt pulling out of a Nobel Prize winner and a Booker Prize winner from this week's Galle Literary Festival.
These two persons – Turkish writer Orhan Pamuk, who won the Nobel Prize for Literature in 2006, and Indian writer Kiran Desai, who won the Man Booker Prize, also in 2006 – were touted as the "stars" of the Galle Lit Fest 2011. They suddenly announced that they were not coming here.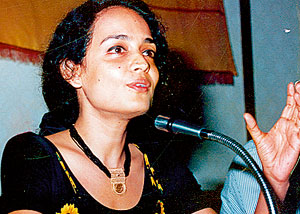 Arundhati Roy – not shy to accept invitation to promote her book in Sri Lanka. Ms. Roy visited in 1997, after winning the Booker Prize for her novel, The God of Small Things.
The news, no doubt disappointing to many, comes even as these same two prize-winners – who, incidentally, make a cute literati/glitterati romantic tale in themselves – were enjoying the literary limelight right next door – as guests of the Jaipur Literary Festival. While happily gracing that festival in India, the couple were ready to ungraciously break their promise to be at the Sri Lanka event.
The problem was "visas", according to the Galle Lit Fest organizers. But, according to the Indian High Commission there was no visa hitch, in fact, they say, they had gone out of their way to help.
What we do know is that Reporters sans Frontières (RSF), or Reporters without Borders, a Paris-based media freedom organisation, had called for a boycott of the Galle Literary Festival. Reporters Sans Frontières said it was "disturbing" (to them) that "literature is being celebrated in this manner in a land [Sri Lanka] where cartoonists, journalists, writers and dissident voices are so often victimised by the current government."
We also know that Indian writer Arundhati Roy had added her voice to the chorus of RSF dissent. It is strongly believed that the Pamuk-Desai pull-out is closely linked with Ms. Roy's thrusting her face into the picture. If visas were not the issue and the RSF the real reason, then the Pamuk-Desai decision not to visit could only be viewed as a weak buckling under pressure – they had, after all, accepted the Galle invitation and confirmed they would be there, while Roy's dissenting voice can only be perceived as meddlesome, to put it mildly.
This is the same Arundhati Roy who, flushed with the success of winning the Booker Prize in 1996, readily accepted an invitation in 1997 to come to Sri Lanka and talk about her achievement, as well as promote her prize-winning book, "The God of Small Things." She enjoyed royal treatment here, and the media made a big splash of her. 1997 was a time when media repression was at its height, with a tabloid editor murdered, Lasantha Wickremetunge and his journalist wife, Raine assaulted on the road and their house fired upon, and serial indictments of national newspaper editors in courts for writing against the President. Ms. Roy thought nothing of it then.
Roy, the writer with Kerala-South India roots, is, as we all know, a vociferous critic of the Sri Lanka regime, and of how the war in the North and the East was conducted. She never misses an opportunity to badmouth the authorities here. Her reputation as a shrill rights activist has overshadowed her reputation as a gifted literary wordsmith.
Now it would seem that, having once enjoyed Sri Lankan hospitality and generosity, Roy thinks nothing of spoiling the party mood for others. It would appear that she has spoilt it for Orhan Pamuk and Kiran Desai, who would otherwise have come here, had a good time, and found new friends and readers. How could that have been a bad thing?
Roy may have thought she was doing "media freedom" a good turn by turning writers away from Sri Lanka, but what she was effectively doing was sabotaging an opportunity for cultural exchange – a chance for writers to discover new audiences in a different part of the world, and for readers here to hear first-hand inspiring writers. This is denying the country a cultural enrichment, and that, in the eyes of many, is a serious matter – some might even say criminal.
For 30 years the country went through a kind of hell and endured untold economic and cultural deprivation. Now, with things looking up, we need all the friendly input we can get from well-meaning outsiders. Let the writers and the artists and the goodwill ambassadors come here and brighten up our lives, for Heaven's sake. We have had enough dark days as it is.
The annual Galle Literary Festival is a privately organised event that celebrates writers and writing, books and book-lovers. The curator of this year's Galle Lit Fest, the Canada-based Sri Lankan writer Shyam Selvadurai, has protested at the RSF boycott, saying "this festival is a voice, a platform for promoting tolerance, peace and reconciliation."
While the Galle festival may be all of these noble things to the organisers, it is for us ordinary book lovers and readers simply an opportunity to see, hear and meet writers, famous and less famous, and to enjoy the unique experience that is the Galle Lit Fest. Guests have said in praise that there is no festival like it, with its sunny, infectiously feel-good, let's-have-a-party character.
For five successive years, the Galle Literary Festival has proved a magnificent entertainment – a magical mix of books and book talk and local colour, generously supplemented with other delights, such as walking tours, gourmet lunches and dinners, parties, and freely flowing free tea and coffee. It is also family friendly, with books, writers and entertainment for the youngsters. The event goes beyond books. Literary festivals are by their nature serious-faced, high-brow affairs; the Galle Lit Fest is a smiling, carnival-like literary entertainment. The SundayTimes has been the Fest's official print media sponsor since its inception because, despite shortcomings, it is an event that is trying to do something positive here during bad times, and now good times.
It is a treat like this that people like Arundhati Roy and others are seeking to spoil. Talk about trying to rain on someone's parade.
The Galle Lit Fest is all too familiar with last-minute let-downs. A couple of years ago, the China/Mao scholars Jung Chang and Jon Halliday cancelled at the eleventh hour their date with Galle Lit Fest 2008. Happily, they accepted a second invitation, and are scheduled to be in Galle this week. There are plenty of hugely interesting, hugely talented people in Galle this week to engage their attention.
At least, we should be grateful that Mr. Pamuk and Ms. Desai initially lent their names to the Galle Lit Fest 2011 promotion, even if they are not there in person. Their names have helped to sell tickets, and their books will be up for sale, if not for signing. And at the end of it all, people will no doubt be saying, among other things: "What a wonderful festival this is … And what a shame that the literary twosome, Mr. Pamuk and Ms. Desai, missed it."