The Sri Lanka Navy will engage in the tourist promotional business by deploying one of its craft for whale and dolphin watching from today. The move has drawn reactions from those already engaged in the trade and those involved in conservation of whales.
Navy Spokesman Athula Senarath said the service to be launched today would be operated between Galle and Mirissa and during the next monsoon would extend to areas between Colombo and Kalpitiya and later to Trincomalee.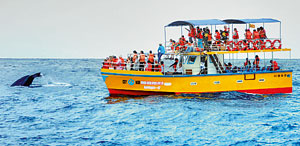 Navy yesterday launched its whale-watching service. Pic by Sanka Vidanagama
He said the Navy would be introducing two different packages of three hours and six hours, and its prices would be lower than those offered by other operators. "We will have the capacity of carrying 100 passengers at a time," Captain Senarath said.
However, whale-watching operators have expressed concern pointing out that the Navy would be able offer cheaper rates because it was using state vessels and sailors involved were also paid by the state."It is like the army selling vegetables on the roads," a tour operator said.
'Protect Whales Sri Lanka' convenor Ayesh Ranawaka, who has been promoting whale and dolphin watching in Sri Lanka, also expressed concern about the move. He said the Navy was using a vessel which has a speed of 22 knots, but international guidelines recommended such vessels should have a speed of only seven knots.
"The Navy consists of highly trained officers and sailors, but my opinion is that they should not be getting involved in an entertainment business which is connected with tourism," he said.