About 30 policemen from the Mt Lavinia Police, some of them in civvies, spent nearly a month last year looking for one of the most wanted criminals involved in over 100 robberies, and were successful at the end when they arrested Sarath Chandana Silva alias 'Chooti Putha', from a house in Raddolugama.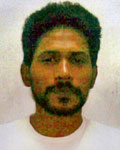 Sarath Chandana
Silva alias' Chooti Putha'
But this week, the Mt Lavinia Police was forced to launch a fresh search for 'Chooti Putha' as he made a dramatic escape from prison custody, while being produced at the Mt. Lavinia Magistrate Courts."The criminal, while leaving courts, ran past his two armed prison guards, scaled the rear wall, ran up to and across Galle Road, challenged a policeman who was pursuing him, and escaped", Officer-in-Charge (OIC), Crimes, Mt Lavinia Police, Tissa Sugathapala recounted to the Sunday Times.
'As Chooti Putha was running along the road behind the Courts, a prison guard opened fire, but it hit a bystander who, later, succumbed to his injuries, and another lawyer's vehicle", he said.
'Chooti Putha' crossed Galle Road and ran into a dead-end lane . He scaled the wall at the end of the lane and got onto a roof. From top of the roof he shouted at a young policeman who pursued him "Puluwan nam vedi thiyapan. Umbata vedi thiyanne ba" ('Shoot if you can. You cannot shoot'). The policeman had pointed the gun at the criminal, but not fired at him", the OIC said.
The young policeman had later told his senior officer that though he wanted to shoot, he was worried that, like in the Beruwala incident where a policeman opened fire at a group of criminals and mistakenly hit a three-wheeler, killing a child, and was finally interdicted, he too may be interdicted.
A search has been launched for 'Chooti Putha'. His arrest last year led to the recovery of over one kilogram of stolen gold jewellery. The criminal had earlier escaped from police custody in Mirihana and Mt Lavinia.
OIC Sugathapala said that prisons officials had been warned that 'Chooti Putha' had claimed he would escape from custody, and hence, to take extra precautions.
Bystander succumbs to gunshot injuries
A bystander who was injured when a prison guard opened fire at a criminal escaping from custody at the Mt Lavinia courts, succumbed to his injuries at the Kalubowila hospital yesterday morning, hospital officials said.
The victim, Prasanna Kumara, 33, was employed in a private company at the Colombo harbour.
'My son was going for a sea bath in Mt Lavinia when struck by a bullet behind the Mt Lavinia court premises. Officials should be careful when they fire weapons in public places", his mother H.M. Amarawathi, a resident of Wellawaya, told the Sunday Times.
"My son was with his brother-in-law, when they had seen the criminal escaping. My son had shouted out that the criminal had escaped and not to shoot, but a prison guard had opened fire", she said.
Commissioner General of Prisons- Maj. Gen. (retd) V.R. de Silva told the Sunday Times that the prison guard responsible for the indiscriminate firing has been interdicted and an inquiry ordered. Meanwhile, the Police is carrying out a separate probe to ascertain whether prison officials had helped the prisoner escape.