Last year was the second warmest on record, figures from the British Met Office and the University of East Anglia showed. According to the data, global temperatures in 2010 averaged 14.5C, making it the second hottest year since records began in 1850 and leaving 1998 in the top spot.
But the two other leading sets of global temperature data from NASA and the National Oceanic and Atmospheric Administration (NOAA) in the U.S. both found that 2010 was the hottest or joint hottest year on record, with 2005 coming in second.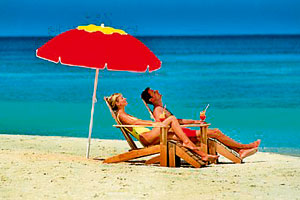 What a scorcher: On average, temperatures across the globe were 0.69 degrees warmer than the average last year
While in the UK, 2010 was the coldest year since 1986 and the 12th coldest in the past century, the Met Office said very few parts of the world were significantly colder than usual during the year. The northern hemisphere experienced its warmest ever year with the average temperature 0.69C above the 1961-1990 average.
For more than 30 years global temperatures have been heavily influenced by weather patterns in the Pacific, with an El Nino -- which has a warming effect -- at the beginning of the year, replaced by the strongest La Nina, which cools the climate.
Dr Adam Scaife, head of long range forecasting at the Met Office, said: 'The three leading global temperature data sets show that 2010 is clearly warmer than 2009. 'They also show that 2010 is the warmest or second warmest on record as suggested in the Met Office's annual forecast of global temperature issued in December 2009.'
Prof. Phil Jones, director of research at the University of East Anglia's Climatic Research Unit, added: 'The warmest ten years in all three datasets are the same and have all occurred since 1998.
'The last ten years 2001-2010 were warmer than the previous ten years (1991-2000) by 0.2C.'
Bob Ward, policy and communications director at the Grantham Research Institute on Climate Change and the Environment at London School of Economics and Political Science, said: 'These results show that 2010 was historically an exceptionally warm year.
'Although the Met Office records it as the second warmest year, NASA and the United States National Oceanic and Atmospheric Administration found that it was tied as the warmest year on record. 'Self-proclaimed climate change 'sceptics' may still try to claim that global warming stopped in 1998, but they cannot explain away the fact that nine of the ten warmest years on record have all occurred since 2000.'
Courtesy Daily Mail, UK