Tony Blair was called a liar and a killer by families of Britain's Iraq War dead on Friday after he finally expressed regret about the casualties. Nearly eight years after the invasion, the former prime minister told the Chilcot Inquiry into the war: 'I regret deeply and profoundly the loss of life.'
But tearful relatives of some of the 179 slain servicemen shouted 'It's too late', turned away from Mr Blair and marched out in disgust. One grieving mother accused him of 'killing my son' and a father told him to his face: 'You are a disgrace to your office.'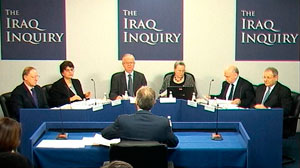 A still image from video shows former British Prime Minister Tony Blair (BACK TO CAMERA) speaking at an inquiry into Britain's role in the Iraq War, at the Queen Elizabeth II Conference Centre, in central London January 21, 2011. REuters
On a day of explosive evidence in Mr. Blair's second appearance before Sir John Chilcot, the inquiry released details of a memo written by Mr. Blair in March 2002, a year before the war, in which he demanded a more 'gung-ho' approach to Iraq.
During four and a half hours of testimony, Mr. Blair admitted that he put Britain on 'track' to war as early as the September 11 attacks in 2001.And he revealed that at an early stage he told U.S. President George W. Bush he would 'be up for' military action and would 'not back out when it gets too hot politically'.
Mr. Blair was also forced to admit his public statements about the legality of the war contradicted those of the then Attorney General Lord Goldsmith.
He said he was making a 'political point' not a legal argument 'but I accept entirely that there was an inconsistency between what he was saying and what I was saying'. He said he ignored advice from the Attorney General that the war might be illegal, and concealed the Government's legal doubts from Mr. Bush.
But it was when he launched an impassioned call for the West to consider military action against Iran and praised the Armed Forces, that watching relatives of the dead snapped. One weeping woman shouted: 'Stop trying to kill them, then.' Mr. Blair inflamed passions further when he sought to apologise over the assertion during his first appearance at the inquiry nearly a year ago, that he had no regrets.
He told Sir John: 'I took that as a question about the decision to go to war, and I answered that I took responsibility. That was taken as meaning I had no regrets about the loss of life and that was never my meaning or my intention.
'I wanted to make it clear that, of course, I regret deeply and profoundly the loss of life, whether from our own armed forces, those of other nations, the civilians who helped people in Iraq or the Iraqis.'
Another relative then shouted: 'You've had a year to think about that.'
Rose Gentle, whose 19-year-old son Gordon was killed in Iraq in 2004, told Mr Blair: 'You lied, your lies killed our son. I hope you can live with it.' At the end of his testimony, Mr. Blair was approached by Reg Keys, whose son, Lance Corporal Tom Keys, 20, was killed by a mob in southern Iraq in June 2003. Mr. Keys said: 'I just wanted to say that you are a disgrace to your office.'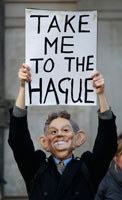 A demonstrator holds up a placard as former British Prime Minister Tony Blair leaves the Queen Elizabeth II Conference Centre after giving evidence for the second time at the Iraq Inquiry. Reuters
Mr Keys told the Mail: 'He wouldn't look me in the eye.' Valerie O'Neil, 53, of Halifax, West Yorkshire, lost her son, Kris, 27, in the war. She said: 'His regrets were too little, too late. I don't believe he was sincere in the slightest.'
Deirdre Gover, 64, whose son Flight Lieutenant Kristian Gover, 30, was killed in a helicopter accident in Basra, said: 'I would like him indicted as a war criminal.' Mr. Blair was recalled by Sir John because the account he gave last year has been contradicted by other witnesses and official documents.
The inquiry issued a list of 106 questions on which they wanted further detail, including Lord Goldsmith's recent claim that Mr. Blair did not faithfully represent his views on the legality of the war. Unlike his last appearance when he slipped unseen into and out of the inquiry, on Friday he used the front entrance. The security bill for the day could top £200,000.
In a memo to his advisers Blair wrote: 'A political philosophy that does care about other nations - eg Kosovo, Afghanistan, Sierra Leone - and is prepared to change regimes on the merits, should be gung-ho on Saddam.'
Mr. Blair recognised in the memo it would be 'very tough' to persuade an unconvinced public - and his own Labour MPs - that war was necessary. He wrote: 'My own side are worried. Public opinion is fragile. International opinion is sceptical.'
But his determination to go to war, whatever the doubts and opposition, was clear: 'We have to reorder our story and message ... We have no inhibitions.' Mr. Blair demanded 'a proper worked-out strategy on how we would do it'.
He said he needed to be able to present the Bush administration 'with a far more intelligent and detailed analysis of a game-plan. I will need a meeting on this with the military folk.' His justifications for the war make no mention of weapons of mass destruction, which he later claimed were the reason for sending in troops.
Mr. Blair said having given such pledges to Mr Bush, it would have been 'profoundly wrong' to back out later. Despite fresh calls from Sir John Chilcot to agree to the publication of his letters to President Bush, Mr. Blair continued to refuse on Friday, insisting they were 'very private'.
Now he wants war
Mr. Blair on Friday issued a stark warning to Western countries to get tough on Iran. The former Prime Minister said world leaders must be prepared to use military force if necessary to deal with the 'looming challenge' from the hardline regime in Tehran.
He said the Iranians would remain a destabilising force in the Middle East while President Mahmoud Ahmadinejad pursued his nuclear ambitions.
'I am out in the region the whole time. I see the impact and influence of Iran everywhere,' he said. 'It is negative, destabilising, it is supportive of terrorist groups, it is doing everything it can to impede progress in the Middle East process and to facilitate a situation in which that region cannot embark on a process of modernisation it so urgently needs.
'The West has got to get out of this wretched posture of apology for believing we are responsible for what the Iranians are doing, or what these extremists are doing.
'We are not. The fact is that they are doing it because they disagree fundamentally with our way of life and they will carry on doing it unless they are met by the requisite determination and, if necessary, force.'
Mr Blair said U.S. President Obama's attempts to extend the hand of partnership to the Iranians had failed to bring a change of policy in Tehran.'We have got to get our head out of the sand and understand they are going to carry on with this,' he added.
His 'uncomfortable' moment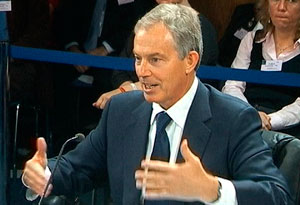 A still image from video shows former British Prime Minister Tony Blair speaking at the inquiry. Reuters
The former PM effectively admitted he lied to Parliament by telling MPs it would not be illegal to invade Iraq without a second UN resolution. He deliberately disregarded the advice of then attorney general Lord Goldsmith that a resolution explicitly supporting military action was vital.
Mr Blair said he believed the guidance was provisional and that the government's top lawyer would eventually fall into line. Lord Goldsmith had told Mr Blair in January 2003 that UN Security Council resolution 1441, declaring Iraq in material breach of its obligations to disarm, was not sufficient to justify Saddam Hussein's removal.
In a statement declassified earlier this week Lord Goldsmith said he had been uncomfortable with statements Mr Blair made to MPs. Mr Blair told the inquiry he too was 'uncomfortable' making the claims but was trying to build a case for ousting Saddam.
'I wasn't making a legal declaration, but a political point,' he said. 'I accept entirely that there was an inconsistency.'
Daily Mail, UK