South Korean navy commandos have stormed a ship hijacked by Somali pirates in the Indian Ocean and rescued all the crew. Eight pirates were killed in the Thursday-night raid on the chemical freighter, which was seized along with 21 crew on January 15 in the Arabian Sea while en route to Sri Lanka.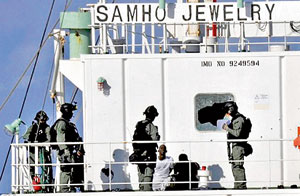 Overpowered: Commandos guard some of the alleged pirates after storming the warship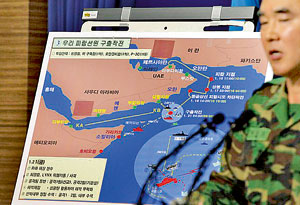 Planned: General Lee Seong-ho stands in front of a map of the attack on the hijacked Samho Jewelry
The captain of the 11,500-ton Samho Jewelry was shot in the stomach during the attack, and three commandos also suffered wounds.
Colonel Lee Bung-Woo, a spokesman for the Joint Chiefs of Staff, said: 'Our special forces stormed the hijacked Samho Jewelry and freed all hostages.
'During the operation, our forces killed some Somali pirates and all of the hostages were confirmed alive.' Eight South Koreans, two Indonesians and 11 from Myanmar were on board the vessel when it was attacked after setting out from the UAE.
Seoul ordered a destroyer on patrol in the Gulf of Aden to give chase and President Lee Myung-Bak ordered 'all possible measures' to save the crew.
The rescue followed a gunbattle on Tuesday, when the destroyer encountered pirates who had left the South Korean freighter to try to seize a nearby Mongolian vessel. Commandos on board a speedboat and a Lynx helicopter were dispatched to rescue the Mongolian ship.
Several pirates were believed to have been killed during that raid, although their bodies have not been found.
Courtesy Daily Mail, UK
Malaysian commandos free tanker off Somalia
KUALA LUMPUR, Jan 22 (AFP) - A day after South Korean commando raided a ship hijacked by Somali pirates, Malaysian naval commandos launched a similar raid and rescued 23 crew and captured seven Somali pirates.
The rescue came after a firefight on the hijacked oil tanker in the Gulf of Aden, reports said today. The commandos were called in after the Malaysian tanker MT Bunga Laurel, sent out a distress call late Thursday after pirates armed with AK-47 assault rifles boarded and took control of the ship.
State media said the tanker was headed to Singapore with a cargo of oil worth more than 30 million ringgit (10 million dollars) when it was hijacked. Malaysian navy chief Admiral Abdul Aziz Jaafar said the commandos, who were manning a commercial vessel protecting shipping in the area, responded to the distress call.
He said one of the navy's Fennec attack helicopters was also involved in rescue, according to the New Straits Times newspaper today, which ran a front page picture of the captured pirates held at gunpoint.
"The attack helicopter kept the pirate's mother ship at bay with several rounds of machine-gun fire while the commandos boarded the tanker," he told the paper.
"The pirates were overpowered after a ... gun battle which saw three of them (pirates) suffering gunshot wounds," Abdul Aziz said. He said the crew were uninjured as they had locked themselves in a safe room after setting off the ship's security alert system.
Malaysian Prime Minister Najib Razak praised the swift action by the navy.
Baby Doc apologizes, seeks healing
PORT-AU-PRINCE, Jan 22 (AFP) - Ousted Haitian dictator Jean-Claude Duvalier has apologized to the victims of his 15-year regime and said he had ended two decades in exile to work for national reconciliation.
"I have come back as a sign of my solidarity during this extremely difficult period in national life," he said on Friday in his first full public statement since his sudden return late Sunday to the nation he once ruled with an iron fist.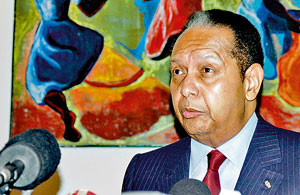 Former Haitian dictator Jean-Claude "Baby Doc" Duvalier attends the news conference in Port-au-Prince January 21. Reuters
"Baby Doc" Duvalier said he also wanted to "voice my deep sorrow to my fellow countrymen who say, rightly, that they were victims under my government."
Speaking in a weak voice to a room packed full of journalists, the 59-year-old called for "national reconciliation" in Haiti and said he had hoped for a "rapid resolution to the political crisis."
But he did not outline what had happened to those who suffered under his 1971-1986 regime.
Instead, speaking mainly in French with a few words of Creole, he offered "sympathies to my millions of supporters who, after my voluntary departure from Haiti in 1986 to avoid a bloodbath and to allow a swift resolution to the political crisis, were left to themselves."
The ex-dictator said thousands of his supporters were "assassinated, suffocated, interrogated, subjected to tire necklaces burnings; their houses, their possessions were pillaged, uprooted and torched."
With so many unanswered questions, his words are only likely to stoke further tensions among people with long memories of his brutal rule. Many fear he is seeking a return to power by capitalizing on the current political chaos stalking the quake-ravaged Caribbean country.
And Duvalier, who fled amid a popular uprising, did not explicitly rule out taking on any political role.
Haiti, already struggling to recover from the devastating January 2010 earthquake and a cholera outbreak, is caught up in deepening political turmoil due to disputed presidential elections.
"The electoral system is broken," said popular singer Michel Martelly, who came in third place in November's presidential elections according to initial results released by Haiti's election commission.
'Inconclusive' Iran nuclear talks enter final day
ISTANBUL, Jan 22, (AFP) - Iran's nuclear talks with world powers were set to enter a final day Saturday in Istanbul but Western sources described the negotiations as being "inconclusive" so far. Iran's chief nuclear negotiator Saeed Jalili met with representatives from the P5+1 group of Britain, China, France, Russia, the United States and Germany, led by EU foreign policy chief Catherine Ashton, on Friday.
It was the second round of talks between Iran and the powers after talks resumed last month in Geneva, breaking a 14-month hiatus in diplomatic efforts to dispel concerns that Tehran is secretly developing an atomic bomb.
"We will absolutely not allow the talks to go into the issue of our basic rights like the issue of suspending enrichment," Abolfazl Zohrevand, an aide to Jalili, said. He insisted however the talks were held in a "positive" climate.
But Western officials reported little progress, saying both sides had stuck to their positions.
"They talked a lot but the positions remain the same... It would be fair to say that the bilateral (meeting) was inconclusive," a diplomat, who requested anonymity, said after Ashton and Jalili met for an hour and a half.
The Iranians, he said, insisted on two pre-conditions to engage in talks on a nuclear fuel swap proposal, aimed at easing suspicions over Tehran's nuclear activities.