On January 11, as Yamuna lay still on the cold floor of her mud hut in Kothiyapola village, 12 kilometres from Batticaloa town, she felt water submerging her slowly. While the 13-year-old girl realised that a flood had broken into her home, she was unable to move because she is physically challenged.
As the waters rose in the poor farming village, Yamuna's neighbour went to her rescue. Her mother at that time was working, somewhere outside their home. Her father had left them when she was born. Yamuna was lucky, she was saved just in time. However, 43 others who died were not as fortunate.
Apart from taking lives, the recent floods – engulfing several districts between Ampara in the east and Hambantota in the south - damaged property worth Rs 50 billion, Minister of Disaster Management Mahinda Amaraweera says.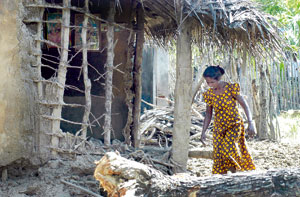 Flood-victims are wondering how to reconstruct their lives and homes after the devastation. Pix by Saman Kariyawasam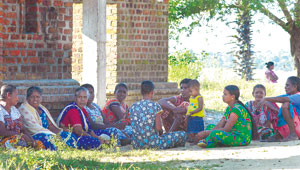 The homeless are wondering when they can go back to their homes, or when new homes can be built for them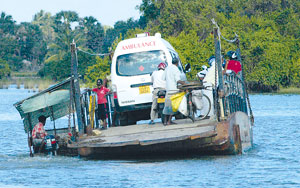 Ambulances, other vehicles and persons depend on just one ferry
As we travelled through the ravaged areas in the east last week, scores of people still mourned the deaths of their loved ones. Others stared at the remains of their destroyed homes and crops rotting in the fields.
Unlike the 2004 tsunami that hit the coastlines, this month's floods washed away swathes of agricultural lands, taking away livelihoods of thousands of people. We noticed many people living in the open or in make-shift homes while some others lined at welfare centres, awaited their rations. Almost everyone interviewed said that their farms, houses and crops were destroyed. They expected the government to help.Poultry farmers P Paikkarajah and P Oviarasa who live in Thiruplaugamam village in Batticaloa district lost 400 hens to the floods.
"There was nothing we could do. The water just came in the night and the only thought was to flee the area, with or without the birds," they said. M Bawa, 62, father of six children used to operate a roadside tea kiosk in Samanthurai before the floods. "When 10-feet of water comes to your doorstep, there is little you can do. The flood washed away my goods and they landed in the stream gushing nearby," he said.
J Bernard Piragash, an aid worker with the American NGO ChildFund, said his group was targeting the worst affected people in rural areas in the Batticaloa district. "These people live on the poverty line and are often ignored by those responsible for their wellbeing," he said.
ChildFund distributed dry rations, educational material and other emergency items to around 200 families in the district, he added. Another international NGO called the Norwegian Refugee Centre (NRC) has moved in to provide non-food relief items to flood victims. NRC member G Ravinathurai said that his organisation provided aid packages to affected families.
Each package contained four bed sheets, two mosquito nets, one lamp and a hygiene kit of soap, tooth paste and shampoo. The NRC, he said, intended to help 4,000 such families in Batticaloa district.
Suntharam Arumainayaham, the district's government agent said that 533,000 persons were initially affected by the floods there. Batticaloa district's total population is 596,000. About 275 welfare centres – mostly in schools – had been set up by the administration to help flood victims. The centre provided cooked meals.
Currently, such camps have been removed and plans are afoot to provide relief measures to affected persons by way of seeds, fertilizer and interest-free housing loans. According to Arumainayaham, an estimated 175, 000 acres of paddy land that was planted this season and set for harvest some 130 acres had been completely destroyed.
He said an assessment was currently underway by the 14 AGA Divisions to assess the number of homes and other buildings that were damaged.
"For a start we have provided roofing sheets and other material to construct temporary abodes," he said.
He added that the affected persons could be listed in three categories, like those who were in the welfare centres, others who lived with friends and relatives and persons who lost their livelihood owing to the floods.
S Rakulan, a fisherman by day and watchman by night is a resident of Walathapitiya village in Ampara district. He lost both jobs due to the flood. The tank in which he used to throw his fishing nets dried up. The paddy fields he watched over at night washed away.
The Vellu tank in the outskirts of Ampara was emptied after its bund burst open on two different fronts sending a wall of water crashing to thousands of acres of lush paddy fields situated on the opposite side.
Rakulan along with 4,000 fellow villagers have since been forced on government aid and private charities. "The tank was our sole livelihood since the water fed the paddy lands and other crops and it was our main source of fishing. Things are going to be rough from now on and we expect the government to come up with some relief at the earliest," Rakulan said.
"The noise was frightening as thousands of gallons of water gushed out. The sound was like a plane roaring over the roof tops," he said while referring to the water in the Vellu tank crashing out.
Last week, 45-year-old K C Ameena of Ismail Pura, returned from an aid distribution centre in Ampara with a bag of rice, sugar and utensils. With five children and a bedridden husband, Ameena has many mouths to feed.
Like thousands of others her home was washed away. "But for how long will this kind of charity continue," she asked while referring to the aid distribution. Rakulan and Ameena said government officials rarely visited the affected village and the relief hand out reached them late.
The government relief package comprising a kilogram of rice, 200 grams of sugar, 100 grams of dhal and a little coconut oil was expected to sustain one person a week.
Ampara district government agent Sunil Kannangara said that 157,000 displaced persons were housed in 169 camps at the beginning of floods and 1,112 houses were fully destroyed. That apart, around 60,000 metric tonnes of paddy yield was destroyed while 4,000 heads of cattle were also killed, he said.On Christmas Eve in 1957, around 14 inches of rain water hit the district on a single day. This time around, 13 inches of rain water collected on a single day in all 20 AGA divisions in the district," Mr. Kannangara said.
Complete set of schoolbooks washed away
In the village of Kokkadaicholai, in Batticaloa, Thuwaraka Kadamanni looks miserable. She lost all her schoolbooks in the floods."I had a full collection of all my past textbooks, from Grade One to Grade 12. And now I have nothing. I am very, very sad," she said. Her family has lost their entire harvest of chillies and all their poultry.
A single ferry comes to the rescue
aAs the flood waters swept through Batticaloa, cutting off roads and inundating fields and villages, and leaving villagers stranded, everyone started turning to a single ferry to take them to safety.
The Batticaloa lagoon ferry service, which operates between mainland Batticaloa and the northern part of the district, starts at 5.30 am and ends at 6.00 pm, and makes 22 trips a day. Ferry operator S. Sivalingam said that during the floods the ferry team was under tremendous pressure. The service had to carry an unprecedented number of passengers and vehicles, including ambulances with injured persons who had to be taken to the Batticaloa Hospital. During the war in the North and the East, the ferry service charges were Rs. 5 per person and Rs. 40 per vehicle for the one-kilometre, 12-minute ride. The ferry service is now free, and is operated by the Road Development Authority.