Pakistan stood by Sri Lanka at a time of crisis and that will be the foundation of a new friendship and it will be etched in the memories of the people of the two nations, General Ashfaq Parvez Kayani, Chief of Army Staff of the Pakistan Army said.
Addressing the student officers of Defence Services Command and Staff College (DSCSC) at Sapugaskanda on Friday, the visiting Army chief said be it weapons or training for military personnel, Pakistan always came forward to help Sri Lanka.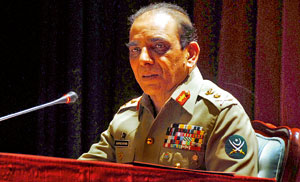 General Ashfaq Parvez Kayani addressing student officers at DSCSC. Pic by Sanka Vidanagama
He was here on a three day visit which ended on Friday. General Kayani said although the war against the LTTE has been won, the battle is still on as it will be won only when ex combatants are reintegrated into society. He added that a lot could be learnt from the expertise of the Sri Lankan army in fighting terrorism.
He said terrorism could be created by growing radicalism. "In the case of Sri Lanka, it grew in terms of ethnicity. But usually in South Asia radicalism grows in terms of religion," he said adding that people are more sensitive when it comes to religion than ethnicity and that's the situation Pakistan was facing presently.
Commenting on the relations with its neighbour country India, he said, "An arms race with India is not an option for Pakistan," adding that the defence budget of India is nine or ten times bigger than Pakistan's. But he said that he stands by the fact that he is India-centric as Pakistan has some unresolved issues and a history of conflicts with its neighbour.
He elaborated that there should be a right balance between defence and development and that was the way forward for the South Asia region. "Strategic stability means having stable and secure neighbours as it enhances security and peace within the country. An arms race is not an option for South Asia," he said.
Commenting on Afghanistan and President Obama's change in strategy to pull out of Afghanistan in 2014 instead of 2011, the General said that the question is how things are going to shape up by 2014 as no one has a clear idea of how things would turn out.
He added that what happens in Afghanistan is important to Pakistan not only because it shares a long border but because there are many tribal villages in the border for whom these don't mater much.
Moreover, he said, if Afghanistan is secure, then many border and security issues that Pakistan faces too could be solved. "One cannot isolate Afghanistan from Pakistan," he emphasized.
The Defence College Commandant, Major General Jagath Rambukpotha, welcoming Army chief said when Sri Lanka sought Pakistan's assistance during the war the Pakistan General's answer was, "We are coming to help. Don't worry, we are coming".