The Veterinary Faculty of the Peradeniya University is to introduce the latest techniques of cattle breeding to local farmers with the aim of increasing the country's milk production.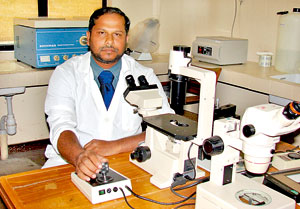 Professor Basil Alexander speaking to the Sunday times
Spearheading the drive are Prof. Basil Alexander and his team. Their new methods — dubbed Helabada Kumariya and Peradeni Kumariya — in determining the sex of the unborn calf have proved correct in 95 percent of the cases.
These methods together with other techniques that Prof. Alexander and his team have introduced will make cattle breeding a financially viable operation becasue they promote selective breeding.
Prof. Alexander said the X & Y chromosome determining the sex of calves to be born can be separated by a process of electrons. This process is known as the Electrostatic Deflection Plates which divides the semen according to weight.
The chromosome so separated is kept in Nitrogen and according to the professor can be kept for even 200 years. The electronic machine/seperator is said to cost Rs. 50 million.
According to professor Alexander the new method will be introduced in Jaffna and in two years time every family in the north will be able to own a cow.