One of Sri Lanka's most experienced playwrights, script writers, teledrama directors and actors Bandula Vithanage who celebrates 45 years in art and cinema is to be felicitated on January 30.
Celebrating 70 years in life, Vithanage has played an impressive role in introducing Shakespearean theatre to Sri Lankan theatre audiences with his acclaimed 'Vaniciye Velenda'- 'Merchant of Venice' in which yet another experienced actor Tony Ranasinghe brought an unforgettable performance playing Shylock.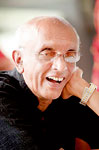 Bandula Vithanage
The felicitation will be held on 30 January at John de Silva Theatre in between the two shows of his son, Nalaka Vithanage's latest stage production 'Breaking News'.
Born in the Southern part of the country and having studied at Dharmashoka College, Ambalangoda, Vithanage first joined the stage in 1963 at the University of Colombo playing in P. Welikala's 'Rathnawalee' which was produced on the instructions of the legendary playwright Ediriweera Sarathchandra.
His first stage production was 'Mega Garjana' and that was followed by 'Gangawa, Sapaththu Kabalak saha Maranayak' which won rave reviews at the State Drama Festival. Scripted by late playwright Simon Nawagaththegama it won the Best Actress and Best Stage Designing at the festival. 'Beket' produced on a translation in 1974 is considered as good as its original.
Having played in the silver screens in films like 'Paankiriththa', 'Ahas Gawwa' and 'Pembara Madhu', Vithanage got interested in Shakespearean Theatre and wanted to share it with the Sri Lankan audience and produced 'Merchant of Venice' in 1980.
The Shakespearean language made into interesting Sinhala, Vithanage's talent was proven with this production. Subsequently Vithanage produced 'Twelfth Night' in 1988 and 'Macbeth' in 2006. In the 80s and 90s Vithanage presented some of the unforgettable Sinhala stage productions like 'Senehebara Dolly', 'Romaya Gini Gani' and 'Sikuru Sanekeli'. He also played in nearly 10 films including Vasantha Obeysekera's 'Wesgaththo' and Pathiraja L. S. Dayananda's 'Jodu Walalu'.
When television was introduced to Sri Lanka, Bandula Vithanage was one of the few pioneers to direct teledramas. He directed 'Bumuthurunu' and 'Asalwesiyo' and has been producing a large number of teledramas upto date. Not only the theatre, silver screen and miniscreen, Vithanage but all in radio productions some programmes and radio dramas Vithanage has excelled.