Books are gradually beginning to lose their magical hold over people. Although at first this might seem like an extremely sweeping and highly improbable statement, with every new Kindle purchased or every batch of ebooks either downloaded or uploaded, it gains an additional bit of weight.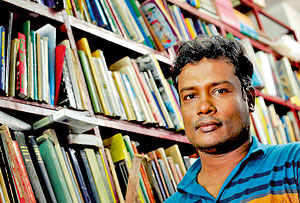 Sunil Senanayake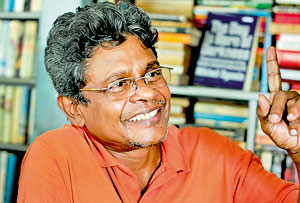 Sarath Thewarahennadi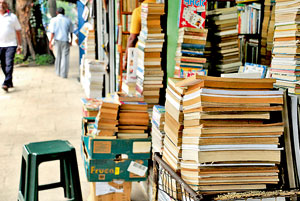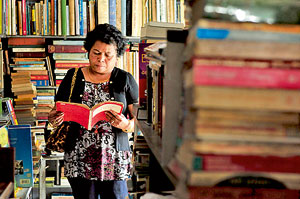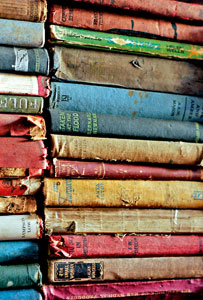 Yet for many of us who have grown up intoxicated with the fresh scent of a brand new paperback or the comforting fragrance of a previously used book, that mystical grasp can never entirely fade away.
One of the aspects of the tangible written word that is most bewitching is the hunt for it. Trudging across whichever part of the world you may find yourself in, in search of a certain book by a particular author, always has that element of excitement and adventure that cannot be replaced by just downloading it online in a matter of minutes.
With this in mind, the Mirror Magazine decided to scour Colombo in search of the places where the feeling of the 'hunt' is most palpable; second hand book stores. The first place that drew our attention was a single floor shop, cluttered with various magazines, novels and text books, buried amidst the daily bustle of Wellawatte, called Senanayake Bookshop.
Today, as on most days, Sunil Senanayake, the shop's proprietor, is seated in his customary position near the back of the shop, surrounded by several small pillars of Agatha Christies, Ian Rankins and James Hadley Chases. In between an occasional quick grin, Sunil is wholly focused on the store and the numerous customers, both the long serving and the curious, that frequent it.
Sunil is the second generation of his family to run the shop, after his industrious father, Piyasena Senanayake founded Senanayake Bookshop in 1952. In the nearly sixty years since then, the shop has seen its clientele balloon into a number that includes several of the area's residents as well as professors and students in search of a rare book or cheap bargain.
Walking along the narrow aisles between each bookcase, you can't help but be overwhelmed by a profound sense of nostalgia as you browse through used copies of Haydn Richards Junior English, TIME Magazine or National Geographic. You also might be slightly disturbed by our city's apparent penchant for erotica and romance novels as there is an entire section of the shop taken up by books with covers bearing pictures of men and women in varying degrees of undress, entwined…well, you get the picture.
Another site in the city most second hand book seekers should make a point of visiting is the stretch of pavement, besieged by a row of bookstalls, down Darley Road in Maradana. Foremost among them is 'Sarath's Books'. Sarath Thewarahennadi, like Sunil, inherited the shop from a relative, in this case his uncle Premadasa Weeraratne, whose story is just as fascinating as many of the works of fiction that line the shop's shelves.
"My uncle was in the Navy and when he got injured he sat opposite the Maradana Railway Station and put a bunch of Readers' Digests on a box and started selling them in 1953. Eventually he realized he needed to bring in novels because he knew that the British officers who he mixed with in the Navy always read these. So he went around the area asking people for any novels they could spare," Sarath said.
Eventually the store was moved to its current location, and during the 70s was the first second hand bookshop in the area, before more people arrived and the strip of roadside became a used-book paradise.
Finding your desired literary or informational material in both Sunil's and Sarath's shops require that you spend at least an hour tediously examining each disorganized stack, and therein lies the beauty of these hidden treasure troves; the tedium and thrill of searching and finding, a unique phenomenon that technology can never hope to replace.