Dreaming of recording dynamic 3D images? Panasonic together with Softlogic took the Sri Lankan audio visual experience to a new dimension when they launched the world's first 3D Camcorder in Colombo.
Managing Director of the Panasonic Asia Pacific Ikuo Miyamoto who graced the occasion said he was happy to share the magic of Panasonic's revolutionary 3D technology with discerning Sri Lankans.
The world's first consumer 3D camcorder, HDC-SDT750 allows 3D images to be recorded at home by simply attaching a 3D conversion lens.
This allows users to create their own 3D movies. "It makes it possible to save precious memories of friends and family in vivid lifelike images to further expand the world of 3D enjoyment at home," he said.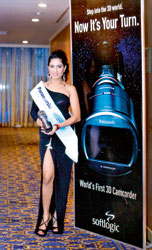 A model displaying the world's first 3D Camcorder