Chemo and caring, that's what this gentle and soft-spoken Sri Lankan doctor is extending to many a human being in hopeless despair half-a-world away.
Most of her patients who have cancer,a life-threatening illness also keep coming back to her well-appointed clinic at Toms River, New Jersey in America not only because the facilities are good like at numerous other clinics but also because of the warmth and all-embracing comfort that emanate from there.
Dr. Ranmali Ponnambalam is a Medical Oncologist and it is to doctors like her that patients are referred to when diagnosed with that dreaded disease.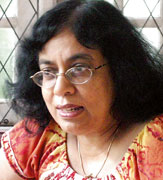 Dr. Ranmali Ponnambalam
Pic by Athula Devapriya
"Cancer treatment can involve surgery, radiation, or chemotherapy," Dr. Ranmali explains when the Sunday Times meets her at her mother's home at Wellawatte while she is on a brief visit to Sri Lanka recently, leaving behind her busy schedule back in America.
If a tumour can be removed, it is done by a surgeon after which the patient is referred to a medical oncologist like her who is in charge of overall care, she says who "follow a person throughout his or her their life."
Medical oncologists are very keen to keep on seeing patients, especially those with colon or breast cancer to prevent a recurrence. These two cancers which can be diagnosed early are removed through surgery. In the case of breast cancer, hormone treatment to block the oestrogen and chemotherapy prevents it from coming back, after surgery, she says, hastening to add however that this would also depend on the stage of the disease when it is diagnosed. Similarly, with colon cancer, chemotherapy is given to reduce the chance of a recurrence.
Explaining the medication regimen, Dr. Ranmali says that treatment is given for a specific period of time, along with hope and prayer that it won't come back. "But," and that hangs heavily in the air, "sometimes people are diagnosed with very advanced cancer without having had no symptoms since internal organs have no pain fibres resulting in there being no warning signs."
Mammograms are considered effective in detecting breast cancer early, she says, adding that 75% of breast cancers are caught by mammograms and a majority in the early stages. That's why women in America between 35 and 40 are recommended a baseline mammogram and those between 40-50 advised to undergo this screening every one to two year and after 50 every year. "Younger women are less likely to get breast cancer with the risk rising for those over 50."
A colonoscopy, meanwhile, is recommended for both men and women after reaching 50. Chemotherapy, the very word which conjures up visions of patients being very sick after its administration, is now well developed, according to Dr. Ranmali, and can either be injected or given orally. "Chemotherapy now has many different drug combinations. Each drug has its own set of side effects but only few bring about nausea and body-wracking vomiting now. There are also drugs to prevent other side-effects.
However, hair loss can't be prevented with certain chemotherapy drugs." Words of experience and wisdom come from Dr. Ranmali who has not only seen suffering and sorrow but also much courage in the face of illness-adversity. Oncology is challenging, she says, as the diagnosis itself is awful because it is life-threatening. No two people deal with it in the same manner.
"We try to manage cancer like a chronic disease, to help the patients live as normal a life as possible, maintaining their quality of life," says Dr. Ranmali who has to repeatedly answer questions such as "Can we go to work? Can we function?" from her patients and reassure them.
A lot depends on the individual patient, she stresses, pointing out that some with colon cancer who have to undergo chemotherapy every two weeks are hooked to an infusion pump which looks like a small box and go about their work. Some hit the depths of despair and can't cope when they get infections due to low blood counts or face frequent hospitalization for other complications.
While studying at Ladies' College and later at the Colombo Medical Faculty she never dreamt that one day she would be sitting by the side of terminally-ill patients not only administering chemo but also holding their hands.
Payback time for her free medical education came soon after, with Dr. Ranmali working for six years in Sri Lanka and the final three at the Lady Ridgeway Hospital for Children under Dr. Benjamin David. It was here that she came across the heartbreaks and the devastation for they were looking after children with leukaemia.
Married to Ajith Ponnambalam, also a doctor whom she accompanied to England, there was no time for much thought or philosophizing, as motherhood kept her busy with two young sons.
When America beckoned the family, she was drawn to books on terminal illness and her conviction grew that the need was right there -- doctors who would not only treat terminally-ill patients but care for them enough to ensure that their quality of life is protected. Her childhood and the model provided by her parents, writer Anne and well-known figure at Lake House, the late Earle Abayasekara had equipped her with the humanism required for this type of work, which was not just a job but a calling.
Starting out as a member of a group practice, gradually her determination to "go solo" became a reality and she is on her own now employing six staff including two specially-trained nurses. "We do our best but we don't know the outcome. Life and death are in God's hands," says this doctor who is guided by Christianity and believes that death is not an end…….."death is not terrible and we should not be overwhelmed by it….we go to a better place".
But, concedes Dr. Ranmali with a break in her voice, it hits her and drains her when young people die. It is very hard, she says emotionally, recalling one of her favourite patients who came to her at the age of 29 with Stage 4 cancer. She lived until 32, beating the odds, which makes this doctor happy as she recalls how she said, "You gave me three years", with much poignance.
As every minute is precious not only for her patients but also for their loved ones, there is a celebration of life each year around springtime when they get-together with her staff to party the night away.
Pulling out all stops, her team makes it memorable, for who knows what the next year will hold. Merchants in the area chip in to provide gifts while hotels give special deals. The venue is decorated as if it's a wedding, with a DJ in attendance and the patients dancing to their hearts' content, she smiles.
And the theme song for these annual celebrations is - 'I will survive' sung by the Filipino nurse on Dr. Ranmali's team.
For Dr. Ranmali who hopes to spend part of her time soon in Sri Lanka spreading the message of cancer awareness, fulfilment and contentment come when loved ones send tokens and cards even after their relatives are no more. Her reward comes in the form of simple lines written by the bereaved -- "You made them feel special, as if they were the only ones." This is all that matters to this ministering angel.