In the good old days, some 70 years ago, thousands of middle and low income families would throng the Galle Face Green on the evening of January 1 not only to get some fresh air but also to have free entertainment. Children had a happy time with the balloon and kite sellers, enjoying the cooling bliss of icy chocs and ice palams. The Salvation Army band and the Police band played light music and songs like "He's a jolly good fellow" and "Darling Clementine" would fill the air.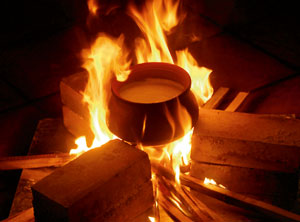 About 25 years ago, the larger and well established mercantile firms in Colombo declared the first day of January each year as a "special holiday", simply because their Directors and executives made merry the night before, and were unfit for serious work. Also for race goers (Turfies) was the Governor's Cup day. Later, the first of January became a holiday called "National Heroes Day". Today, with the accent on more productivity and fewer holidays the picture has changed for the nation's economic betterment, and no longer do we begin each year with a holiday.
At midnight on December 31, 2010, temple and church bells pealed to usher in the new year, whilst religious-minded people of all walks of life were in midnight prayer, seeking God's guidance. Thousands flocked to their temples and kovils. Merrymaking prevailed at hotel dances with the singing of "Auld lang Syne" signifying an air of happiness and regained peace in the country. Fire works illuminated the sky and in keeping with naval tradition, ship's sirens blared out at the Colombo Port. Meanwhile there were citizens who made their personal New Year Resolutions, some perhaps, to lead better lives, give up drinking and smoking whilst spendthrifts resolved to just attempt to save money for a rainy day.
Many countries have their own indigenous New Year customs. In Sri Lankan homes there is "Kiribath" (milk rice) always on the table and a large comb of ripe plantains. In Scotland, it is not unusual for a kind neighbour to be asked to leave a large block of (black) coal on the front door step of your house at midnight on December 31 as it is believed coal does bring "good hick" to the home. In the Brazilian Amazon, the Karaje Tribes of the rather inaccessible hilly Matto Grasso, paint their faces and bodies with attractive designs in several colours, on the first day of January before offering food for the dead buried in cemeteries.
Stepping back in time, there are many events that took place on January 1. The elder son of Mudaliyar Don Spater Senanayake of Botale was F.R. Senanayake, a Cambridge-educated Barrister who along with C. Balasingham of the Legislative Council of Ceylon established the State Mortgage Bank in about 1923. Senanayake was a leader of the Ceylon Temperance Movement along with notables, Sir Baron Jayathilaka, Dr. W. Arthur Silva, President of the Buddhist Theosophical Society, Arthur V. Dias and Edmund Hewavitarana. This noble son passed away on the first day of January 1925 and is still remembered annually with floral tributes placed at his statue opposite the Colombo Town Hall. Meanwhile, his younger brother D S Senanayake was appointed by King George VI a Privy Councillor on January 1, 1950.
A large city like Colombo which has a floating working population needs good transport. An old firm Boosted Bros. were permitted in January 1900 by the CMC to import and operate a tram car service to ply between Grandpass - Maradana - Pettah and the Fort. This service was discontinued in 1951 and the more efficient electric trolley bus was introduced instead. The service was a financial loss.
Eventually this Municipal public transport service ended after 65 long years on January 1, 1965.
Dr. R. L. Spittel, the famous ambidextrous surgeon and close friend of the Veddah community who lived in jungles off distant Buttala in about 1935, wrote that the Veddahs never kept track of dates. They only knew that night follows the day time, hence any day of the calender to them would be the start of a new year.
January first of any year is just a historical date. Let us hope that with the release of the final Lessons Learnt and Reconciliation Commission Report our politicians will turn to be statesmen and courageously shed their parochial differences, seriously having in mind the oneness of our nation to enjoy a lasting peace.