The last phase of the war forced the closure of many of our national parks, including Yala. No sooner had the military given clearance, the public was allowed to access the country's most popular National Park, but what many were unaware of was that it was only a part of the Yala wilderness that they could visit. The area opened was Block I.
Now comes the news that the remaining sections of Yala National Park will also be thrown open to the public soon by the Department of Wildlife Conservation (DWC).
"We are planning to open the remaining sections of Yala National Park gradually. In line with the 'Deyata Kirula' exhibition that will be held at Buttala, Block III will be open in February," said Director General (DG) of the DWC, Dr. Chandrawansa Pathiraja. The DG said wildlife officers were already engaged in preparing the infrastructure such as building the road network in Block II and III as well as visitor facilities like camp sites together with a few bungalows.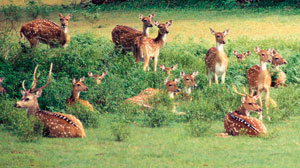 Pix by Mevan Piyasena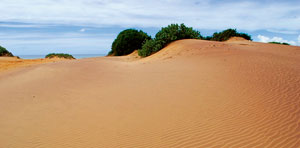 Spectacular sand dune at Yala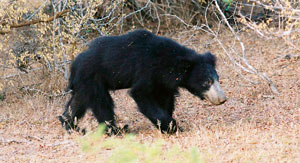 More chance of bear sightings
Some wildlife lovers who frequently visit Yala welcomed the news and the chance to revisit old haunts.
"Poththana Beach in Yala Block II was one of my favourites in Yala," said Mevan Piyasena, a field naturalist and wildlife photographer. He recalls large sand dunes in the area which constantly shifted with the wind. Mevan also remembers seeing large herds of deer during his last visits in early 2000. "Some of the herds consisted of more than 100 deer and as a photographer, there was always some special movement to capture," said Mevan.
Yala Block II has a large stretch of beach as it abuts the sea. It also has large open areas with several natural water holes and man-made ones. There are several streams or 'ara's that flow across it. Block II is also of archaeological value and has signs that Yala was part of an ancient civilization. There are ruins of a stupa, and a few stone pillars that visitors can see.
Block III which is also in line to be opened soon has some ruins and cave dwellings containing 'brahmi' inscriptions. The vegetations in these blocks is also a bit different to Block I though the concentration of wildlife is not as much as Block I. However, some areas in these blocks are good for bear- sightings according to the trackers.
"The opening of the Block II and III will help to reduce the pressure of over-visitation of Block I a little," says Namal Kamalgoda, another wildlife photographer who also voices concerns over conservation. Namal, who has been a a fan of Yala now doesn't go into the park as frequently as he did in the past. "Yala Block I is simply overcrowded and you cannot enjoy the wildlife's uniqueness that way. Such crowds also spell harassment to the animals," he says.
Namal believes opening of these areas will also protect the park from illegal activities like poaching and cannabis chena cultivation which occurs in areas less frequented.
Yala Block II has now been open for some time and some have already begun visiting these areas. But most of them are 4 wheel drivers looking for adventure and Namal highlighted the need for responsible off-road driving in these national parks which are environmentally sensitive. "Recently I had to shout at an off-roader who was ready to drive through a villu in Wilpattu. Villus are unique ecosystems that could be damaged by these kind of activities. Even the open areas of Kumana are now full of tyre-tracks which disrupt the natural settings," he says.
Manori Gunawardana, another wildlife enthusiast involved in the conservation of Yala stresses the need to regularize visitation. "We have a good opportunity for tourism, but it shouldn't be done in a haphazard way," she said. She says visitation should also be managed properly to maintain the serenity of the national parks.
Opening up of new areas requires more wildlife officers and trackers to accompany the visitors. Block-I has been managed for decades, but infrastructure in most of the other areas should be looked into and developed accordingly she says.
It is clear that the opening of new areas will bring inevitable challenges to the DWC. Most of the other blocks are accessible only with 4 wheel drive vehicles, and there is much road development to be done to make it accessible to the general public. Dr. Pathiraja said the DWC staff is working hard to build these facilities.
2011 is also being considered as the Year of Wildlife Development said Wildlife and Agrarian Minister S.M.Chandrasena. Rs.513 million has been allocated in the budget for development of the National Parks and DWC is planning lots of development activities. "Opening of the remaining sections of Yala is also part of this plan," says the DG. Deputy Director of the Southern Region P.M. Dharmathilake said there is a plan to combine some of the area and name them as 'Yala North'.
Conservationists point out that the economic value that can be gained by nature-based tourism can have a positive impact on actions to protect these animals, but also highlight the dangers of mass tourism. "It is a good thing to recognize the potential of wildlife, but wildlife is a resource that can deplete due to over-exploitation like in other industries, if not managed properly," points out Manori Gunawardane. The nature-loving tourist does lots of research before visiting a country, and in this digital era, bad experiences promptly accessible to a wide audience through blog postings and Facebook updates can tarnish Sri Lanka's image as a wildlife hotspot.
Clearly there is much to be done before the opening of the remaining sections of Yala National Park. Most importantly visitors have a larger responsibility not to harass the animals in their eagerness to explore more of Yala's terrain.