SUNY Canton's newest partnership will have an international impact on the healthcare profession.
Students from the International Institute for Health Sciences (IIHS) in Sri Lanka will be coming to Northern New York to earn degrees in the physical therapist assistant programme at the College.
SUNY Canton President Joseph L. Kennedy recently signed the memorandum of cooperation linking the two universities.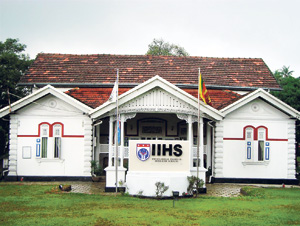 International Institute of Health Sciences- Sri Lanka
"Our latest expansion into international learning programmes fits with our mission and the State University of New York's plan to increase international educational opportunities," said Kennedy. "The demands of this field include providing the global healthcare profession with students who have gained international perspective and experience."
Students enrolled in the programme will attend IIHS for two years before travelling to the United States to complete an additional year at SUNY Canton, which will include a semester of clinical instruction. The students will graduate with an associate degree. The first graduating class is scheduled to take part in SUNY Canton's commencement exercises in May 2013.
Deborah Molnar, assistant professor and physical therapist assistant programme director, noted the collaboration between the two institutions was set in motion more than a year and a half ago. "Our students and theirs will mutually benefit from working with each other," she said. "Student's knowledge of the science and practice of the program will expand, aiding the professional practice both locally and internationally."
The College has partnered with several international universities in recent years, but the agreement with IIHS is the first of its kind for SUNY Canton. The College's other international partnerships offer online bachelor's degree programs that give students the opportunity to earn dual degrees from SUNY Canton and their home institution.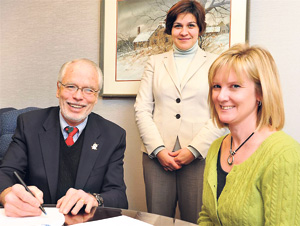 MoC signing.. SUNY Canton President Joseph L. Kennedy Deborah Molnar, Assistant Professor and Physical Therapist Assistant Programme Director at-SUNY Canton University Marela Fiacco, Director of International Programmes SUNY Canton University.
"The new partnership will bring even more international students to our area," said Marela Fiacco, director of international programs. "Each time we partner with other colleges overseas, we increase the diverse learning experiences available to our students."
The International Institute for Health Sciences is a healthcare training organization whose mission is to bring innovation to healthcare training, infuse the traditional values of professionalism, while adhering to international training standards to improve the quality of lives of healthcare professionals. The Institute partnered with SUNY Canton and other international organizations to provide solutions to the global need of well-educated professionals working in healthcare.
SUNY Canton offers a wide variety of career-driven bachelor's, associate, and certificate programmes. Most of SUNY Canton's new four-year programmes are designed so students can take them on-campus, online, or both. SUNY Canton OnLine features more than 150 courses online each semester. The College's athletic teams belong to the NAIA's Sunrise Conference, enabling students to compete in their respective sports for four years. Construction of the College's new Convocation, Athletic, and Recreation Center nicknamed Roos House is nearing completion, while the new apartment-style residence hall, featuring 305 single-occupancy rooms, is under construction and will open in August 2011.
Ms. Kulatunga expressed her gratitude to Priyanthi and Padmesena Dissanayake of Scholarships for USA (Pvt) Ltd, and to Fiacco Marela, Director International Affairs of SUNY Canton, USA for their efforts in initiating and coordinating the affiliation between IIHS and SUNY Canton USA. Ms. Kulatunga further said that this would not only improve the local students' accessibility to American education but will dramatically reduce the cost of education. Upon completion of the Associate Degree a student can find employment as a Physiotherapy professional and academically one can move on to a PhD level.
Milan Perera from Maris Stella College, following the Physiotherapy programme at IIHS says, "I've always wanted to be an international Physiotherapist, so having an international qualification will enable me to fulfil my dream. Now I am following a Diploma in Physiotherapy. Once I complete my Diploma in Physiotherapy at IIHS, I am hoping to go to SUNY Canton University USA for my Associate Degree in Physiotherapy. I am a big sports fan and I want to join an international sports team as a Physiotherapist. I am looking forward to an exciting career with excellent work conditions and a high quality life style".
IIHS is located at number 704, Negombo Road, Welisara. Web:IIHS- www.iihsciences.com.
SUNY Canton- -www.canton.edu