Mr.Perera started his own business after a long tenure in a multinational company. The plans did not work out as expected due to bad economic conditions and all his savings went in to keep the business alive.
Being a loyal customer of XYZ Bank where Mr.Perera has taken loans, he is in possession of a credit card as well. The payment track record on both the loan and the credit card has been perfect and commendable. The usage of the credit card went up while building his house, and he could not continue to pay the total amount on a monthly basis. But he honoured the minimum payment without default and did so before the due date.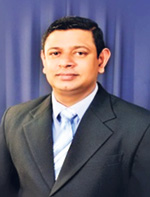 Jayantha Fernando
Director/Trainer & Consultant
Global Talent Coach & Consultants (Pvt) Ltd.
Web: www.gtcnconsultants.com,
Skype:felix.fernando9
Email: Jayantha.fernando@gmail.com
Mr.Perera wrote to the bank expecting a rebate on the accrued interest on his credit card in order to ease his burden. But the request was rejected by the bank. It took 5 months for the bank to respond to his request letter and he had to write and rewrite on the same on numerous occasions.
He continued to make some payment just to show the bank his commitment to settle the dues. But the calls from credit controller reminding him of his dues continued even though he explained his situation and referred the letters as well. He was embarrassed when the bank ignored his track record and credibility, and informed the referee that the customer was not paying and was trying to abscond.
Thereafter he wrote to the top management and even spoke to the Head of Credit Control and explained the whole situation. The remaining 3000 bonus points were cancelled after the customer made the initial lump sum payment.
By this time the customer is furious and decided to stop any further business with the bank. Further he went on to the extent of cancelling the credit card and his debit card as well.
Why it is important to continuously improve the quality of your service delivery?
"People don't want to communicate with an organization or a computer. They want to talk to a real, live, responsive, responsible person who will listen and help them get satisfaction."
- Theo Michelson, State Farm Insurance
Why is it important to make your customers happy, keep them longer and have them spend more.
There's no need to say how difficult it is to create a new customer, so it's worthwhile to create a business that would keep customers longer and have them spend more. On the other hand, customers are happy to be loyal to the organizations that act with a deliberation to find out the needs and desires of its customers and make their lives less difficult.
There isn't one best solution for a Customer Care Problem.
It is understood that losing a good customer is losing the company's profitability and again, any bank should manage the risk of bad customers who would be eating up the profits too. Thus, when it comes to the "moment of truth" like in the given case, it should be managed sensibly and responsibly to let the customer to continue to do business with the Bank.
How essential the "Continuous Improvement" is in Customer Care?
Customer complaint could be a complement if it's been managed well and with an attitude to continuously improve the quality of the service delivery. Diagnosing the background of the issue, taking right decisions, giving the right solution and consistently helping customers to achieve their key goals will put you above the crowd.
Tips to improve service quality
1. Listening - Understanding customers' needs, wants perceptions and expectations through continuous learning and listening with empathy.
2. Reliability- Companies are always expected to demonstrate their trustworthiness to build customer confidence.
3. Basic Service- Companies are expected to deliver the basics and do what they are supposed to do-Keep promises, use common sense, listen to customers, keep customer informed, and be determinant to deliver value to customer.
4. Service Design-It's important to develop a "holistic view" of service while managing its many details.
5. Recovery -To resolve service issues, companies should encourage customers to complain and make it easy for them to do so, by responding quickly and personally and develop problem resolution system. Ignoring the history of the transaction and delayed response had made the customer angry.
6. Surprising customers- Business organizations must sight every opportunity they get to give "Positive surprises" to customers. Assurance, responsiveness, and empathy are most important in delighting the customers.
7. Fair play- Companies must make special efforts to be fair, and to demonstrate fairness to customers.
8. Teamwork-Teamwork is what enables large organizations to deliver services with care.
Source:Leaonard L Berry, A.Parasuraman & Valarie A.Seithmal, "Ten Lessons for improving Service Quality", MSI report paper series, no 03-001(Cambridge, MA: Marketing Services Institute,2003),pp 61
82. True Customer Care leadership, irrespective of rank or position with real, live, responsive and responsible individuals with right skills, thoughts, feelings and behaviour is a must for today's business for mutual benefits. Review situations and continuous learning is the key to better customer service.