The Central Bank ban on Pyramid-style scams, where people are called to invest money in a scheme with assurances that the investment continues to multiply, is being ignored in several areas in the Puttalam and Kurunegala districts.
Residents in Galgamuwa, Maho and Nikaweratiya areas who were lured into joining the scheme have already found that they are unable to recover their money. Those responsible for the racket are armed with documents to claim they were from a registered company and therefore eligible to carry out the scheme.
At least 100 people in the Mahakumbukkadawala AGA's division have already enrolled in the scheme after they had been offered millions of rupees in return if they joined the scheme.
A woman once employed in a Samurdhi office as a clerk is among those allegedly involved in this fraud with hundreds streaming to join the scheme. Some of them have invested more than Rs. 1.5 million each.
She, with her husband as an accomplice, has allegedly cheated a few unsuspecting people. One of the persons also believed to be involved in the scheme is a suspect who was taken into custody by the Maho police and later released on bail.
The modus operandi is to encourage a first deposit of Rs. 1,000 and a subsequent deposit of Rs. 54,100. The depositor then gets an electric light bulb valued at Rs. 750 as a token.
The first client has to get two more enrolled and the cycle goes on till 16 persons, who have to deposit Rs. 55,100 each, get enrolled and sign a document wherein they forfeit any claim if a loss occurs.
Those who enrolled first receive the pyramid money while those who subsequently enrolled do not get anything more than Rs. 750. Many of those who were victims had pawned their gold jewellery or borrowed money on interest to join the scheme.
Though some of the victims spoke to the Sunday Times, they wanted to remain anonymous. "I borrowed the money on interest and on seeing over 40 others joining the scheme I did not feel any suspicion. There were seminars which explained the scheme. I deposited Rs. 4,000 at two places. The agreement form which I signed turned out to be a fraudulent one. I want to advise others not to be deceived into joining this scheme," he said.
People are deceived by these fraudsters because they think they can earn easy money. But it is clear that the aim of the fraudsters was not to make people rich, but enrich themselves at the expense of gullible folk. Some victims expressed surprise that police did nothing to catch these bogus operators.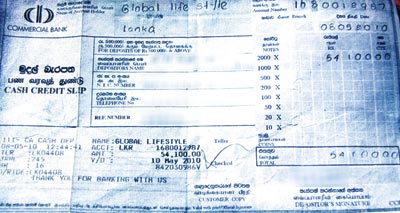 The bank slip showing a credit of Rs.54,100 made by one investor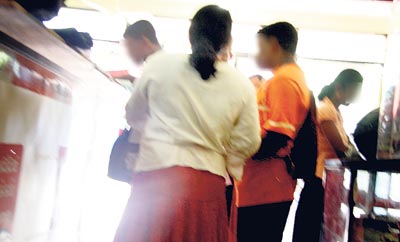 Some people who had come to make deposits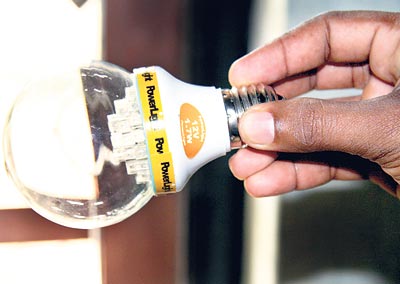 The electric light bulb given to each depositor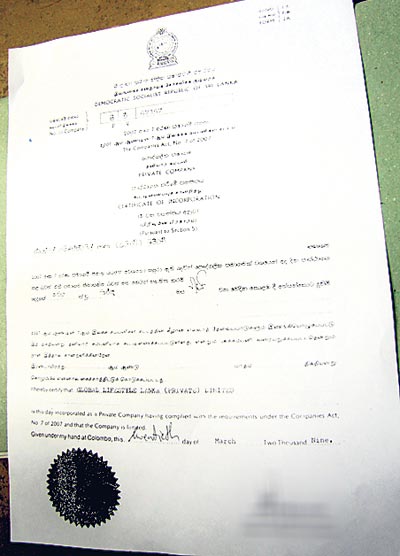 The business registration certificate of a company engaged in the pyramid scam