Anoma, wife of former Army Commander Sarath Fonseka, said yesterday, she would now get to see her husband only once a month. This was after he was jailed on Thursday."When he was held in detention at Navy Headquarters, I saw him thrice-a-day. I took him all his meals," she told the Sunday Times.
She broke down momentarily, when she related the last moments of meeting Fonseka in jail. "He has to sleep on a mat. There are hordes of mosquitoes. But he is a very strong person and had few complaints," she said. The only request was for mosquito coils, which has been made to a jailor, and she was assured it would be provided to him.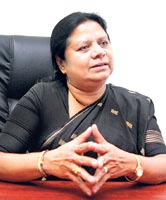 Anoma Fonseka on her return from Welikada Prison
Mrs. Fonseka said the inmates at the prison had welcomed him warmly when they met the former military strongman on Friday morning. He had been brought there late on Thursday night. "I feel the people inside the prison are better than many outside. They are very kind and good," she said.
Their meeting in the waiting room inside Welikada Prison had been a very emotional one for Mrs. Fonseka. She said she could not stop her tears when she saw him there. "He asked me not to worry about him, but to be courageous, as I am the only one left outside for him as well as our family. His words have made me stronger," she added.
Mrs. Fonseka said that he had not made too much of sleeping in a mosquito infested cell by telling her, "When I was in the Army, I have slept on gunny bags under trees, where I have been bitten by ticks."
There was also little complaint about the meals he had received on his first day there, where it was rice and 'pol sambol' for breakfast, and rice and curry for lunch. "He does not expect to get special food in prison," she added.
Asked if she would consider seeking a pardon for his release, Mrs. Fonseka said that there is no need to ask for a pardon, when her husband has done nothing wrong. "I know my husband served the country one hundred per cent purely and correctly, so why should we seek a pardon."
Mrs. Fonseka said she has been receiving numerous calls from their supporters here and abroad, and she has requested them to join the public campaign she is leading to have the former General released. "It is not a political organisation. It is open to anyone who can see the injustice that has been done to the man who served the country fearlessly. The objective is to get him freed," she added.