A former District Minister who watched the Jaffna Library burnt down in May, 1981 told the Lessons Learnt and Reconciliation Commission (LLRC) in Colombo that it was a "spontaneous act" carried out by policemen stationed there on election duty.
U.B.Wijekoon who served as Jaffna District Minister from 1977 to 1989 said that in the unrest which had started in Jaffna leading up to the District Development Council (DDC) elections, three policemen on duty at an election rally of the Tamil United Liberation Front (TULF) were shot dead by unknown gunmen.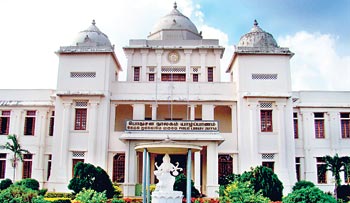 Rebuilt Jaffna library
"That same night several boutiques in the Jaffna town were set on fire. There were 500-600 policemen who had come there for election duty. The following day the library was set on fire. When I heard about it I drove there myself and saw it burning down," Mr. Wijekoon told the Commission on Friday when asked about his recollection of the library burning incident.
Mr.Wijekoon said he was the only Government minister in Jaffna on that day and others like Minister Gamini Dissanayake whose names have been mentioned in connection with the Jaffan library burning arrived only after the incident took place.
"It was not a pre-planned incident to the best of my knowledge. It was a spontaneous act," Mr.Wijekoon said. The former Minister said in the lead up to the elections, several UNP candidates in the election had been shot dead by LTTE cadres.
Asked by one of the Commissioners if the government at the time had initiated an inquiry into the arson incident, Mr.Wijekoon said it had not been done. "There was no investigation and that hurt the Jaffna community very badly," he said.