If Sudil Nilupul had lived to celebrate his seventh birthday, which falls today, he would be dressed in a new white national outfit, and ready to take a gift of kiribath to the daham paasala to observe his special day with his Sunday school teacher and classmates.
Instead of a mood of celebration, however, there are tears as Sudil's family, relatives and friends mourn the death of the little boy in Beruwela who was killed by a stray bullet in a confrontation between the police and a gang of cattle thieves. The incident occurred on Thursday.
That Thursday morning, S. Nihal Guneratne, his wife and son set out in the family trishaw to get the new jaathika endhuma stitched in time for Sudil's birthday. The Guneratnes bought the fabric from an apparel store in Beruwela town, stopped briefly at the National Savings Bank, and were on their way to the tailor's when the incident occurred.
Mr. Guneratne described to the Sunday Times the sequence of events that had led to the tragedy. "As we were turning into the Galle Road, after visiting the bank, we saw two police officers crossing the road. We then heard what sounded like firecrackers. Sudil screamed, saying he was frightened. I immediately stopped my vehicle, next to a petrol shed.
"My wife then screamed, saying Sudil was unconscious. I looked out of the vehicle and saw the two police officers with guns in their hands, standing in the middle of the road. I leapt out of the threewheeler and went round to lift Sudil out. I noticed blood on my hand. The back of Sudil's T-shirt was soaked in blood.
"I tried to place him flat on the back seat, but couldn't manage it. So I got help from a boy who came up to us. We placed Sudil on the floor of the three-wheeler. We then rushed to the hospital." That fateful Thursday, Sudil's parents had decided not to send him to school because of a swollen eye he had developed as a result of a small accident at school the previous day.
According to eyewitnesses, a brown Nissan (Doctor Sunny) coming along the Galle Road from the direction of Colombo had slowed down in front of the National Savings Bank. The car suddenly pulled away from the pavement when two police officers emerged from a white van that was parked in front of the bank. The police officers stepped into the middle of the road and fired shots at the car as it speeded away.
Eyewitnesses said they found spent bullets scattered near the petrol shed, where the Nissan had been stalling. No bullets were found in the vicinity of the bank, where the police officers had been waiting.
A grief-stricken Mr. Guneratne told the Sunday Times that Sudil was his only son.
"He loved planes," he said. "He wanted to be a pilot when he grew up. Whenever I bought him a toy plane, he would pull it apart, ask us to name each part, and then put everything back together, and the plane would be as good as it was when I gave it to him. I had to tighten the bolts."
According to Mr. Gunaratne, Sudil had a natural aptitude for things mechanical and showed unusual talents for a seven-year-old. On his own, Sudil had fashioned a screwdriver out of a discarded piece of metal. It was this screwdriver that he used to dismantle his toy planes.
Sudil would also enjoy experimenting with crayons and colour pencils. He pointed out to his parents that colours changed hue with the effect of water. He liked creating new colours. Another artistic trick of Sudil's was to paint the blades of a pedestal fan, and then switch on the fan to create an image of shimmering colours produced by the spinning blades.
"He was a gifted boy with an original mind. I had great hopes for him." Mr. Guneratne said Sudil had dreams of visiting foreign lands. "He said that when he was older he would travel to many countries and take us with him."
At the time of Sudil's death, his parents were busy preparing to enrol him in the Panadura Sumangala Vidyalaya. They had filled out the application form and were to get the signature of Sudil's primary school principal before sending off the application."The application form is still in my three-wheeler," Mr. Guneratne said.
A few days before the tragedy, Sudil had said something strange to his mother that now sounds like a premonition of death. He had asked his mother whether he would be born to another mother, should he die.
Mrs. Guneratne told visitors who had come to condole with the family that Sudil was a sweet, loving child. "My whole life now revolves around memories of him." According to Raveeshi Sudara, Sudil's 12-year-old sister, Sudil adored his mother, and could not bear to be away from her.
"He would sleep next to her, and tell her everything. He was very possessive of her. He wouldn't allow us to say anything to Amma, not even in fun." Sudil was what any family would call a good son and a good brother.
"He never fought with us or argued or answered back. If Thaaththa said anything, he would listen quietly and later tell his mother about it, but without complaining. "After Amma, his next favourite person was my older sister, who is an Advanced Level student.
Sudil's father,
S. Nihal
Guneratne

Sudil's teacher Ms. N. D. H. Sandakanthi
"Akka would bring Malli anything he asked for. She would bring him movies, like Krish and Dhoom. They were constantly playing together. "Akka has refused to look at Malli's body. "I would help Malli with his homework every day. He had two workbooks. I would get him to do his homework, while I did mine."
Sudil's world was filled with the popular children's cartoon character, Ben 10.
"Sudil loved Ben 10." said Raveeshi Sudara. "He collected Ben 10 T-shirts, Ben 10 watches, and Ben 10 accessories. He was crazy about Ben 10, and also Batman." Raveeshi Sudara said her little brother liked to look good. "He was stylish. When he went out with us on special occasions, like weddings, he would gel his hair and do an imitation of the Beckham look."
Sudil's best friend, Ashen Upeksha, cannot believe that his good buddy is gone forever. He believes that Sudil will be born again and that he will "come back." He worries, however, that Sudil will find it difficult to "come back", with his body sealed off under a slab of concrete.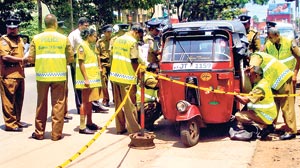 Police at the scene of the shooting in Beruwela. Pix by S. Siriwardena
Ashen and Nithira are two friends from Sudil's Montessori school days who later joined Sudil in primary school.
Ashen and Sudil were neighbours, and would go to school and return together every day. "I am sad and lonely," he said. He has already arranged for another classmate to sit at Sudil's desk, next to him.
Sudil's teacher Ms. N. D. H. Sandakanthi fondly described Sudil as a "playful little attention-seeker" who did not like her shouting at the class. "He would say: Why do you have to shout? What would you do if you shouted and we still didn't listen to you?"
Ms. Sandakanthi said Sudil loved to draw, and was constantly making sketches of his great hero, Ben 10. With an amused smile, she recalled an incident from the year before. "At our end-of-year class party, Sudil signalled mischievously to me. He wanted me to see him drinking the soft drink that was meant for me!"
(Additional reporting by S. Siriwardene)