A three-member military General Court Martial on Friday delivered a guilty verdict against former Army Commander then General Sarath Fonseka on four charges of "disgraceful conduct" in military procurements.
He now faces a jail term of three years once the "Confirming Authority" -- President Mahinda Rajapaksa -- endorses the GCM recommendations. This will also unseat him as a Member of Parliament.
Major General Milinda Peiris headed the GCM, which included Major General Lalith Daulagala and Major General Mahinda Hathurusinghe.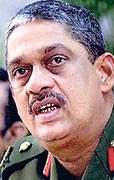 General Sarath Fonseka
A Presidential endorsement of the GCM findings is not expected until after September 28. President Rajapaksa is now on a private visit to Germany. He is en route to New York to attend the UN General Assembly sessions and the heads of government meeting on Millennium Development Goals (MDG).
Ahead of the President's arrival, authorities were yesterday examining the possibility of transferring Mr. Fonseka from his apartment at the Navy Headquarters (NHQ) complex to the Remand Prison. He was placed in Army custody there by the High Court. Hence, Army officials are likely to move to court that since the military inquiries against Mr. Fonseka were now
Please turn over, there was no more need to hold him at NHQ. On August 13, an earlier General Court Martial recommended that former General Fonseka be cashiered for dabbling in politics. Though the former military strongman was hailed as "the best Army Commander in the world" for militarily defeating the Tiger guerrillas, his relations with the Government soured after he became the presidential candidate. He was defeated convincingly by Mahinda Rajapaksa.
Friday's verdict came after the GCM probed four charges. In the first charge, he was accused of violating guidelines by chairing the Tender Board while he was Army Commander to procure 50 power generators from an Australian firm. The local company involved in the deal was connected to his son-in-law, Danuna Tillekerante, who is now in hiding. Mr. Fonseka was accused of "concealing his relationship" and not "dissociating" himself from the tender process.
The second charge related to the procurement of very high frequency direction finders from the same Australian firm. The local company that represented them was connected to his son in law, Danuna Tillekeratne. Mr. Fonseka's relationship with him, the charge said, "would have required you to disassociate yourself from the tender process" in accordance with procurement guidelines. Third charge related to purchase of binoculars and the fourth procuring fifty 12 volt batteries.
Mr. Fonseka is now the leader of the Democratic National Alliance (DNF) whose main player is the Janatha Vimukthi Peramuna (JVP). When Mr. Fonseka loses his seat in Parliament, JVP leaders are examining bringing his wife Anoma as a National List MP. For this purpose the party wants to ask Tiran Alles, now a National List MP to step down.