The working committee of the United National Party (UNP) agreed yesterday to consider its members in Parliament, Provincial Councils and local bodies as having vacated their posts if they act in contravention of the party constitution.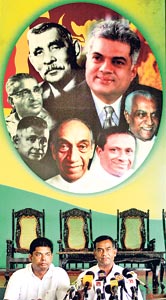 Tissa Attanayaka addressing the news conference following the UNP working committee meeting yesterday. Pic by M.A. Pushpa Kumara
Under the party constitution, UNP Parliamentarians are bound by the decisions and directives of the party leadership and are required to vote in Parliament according to the directive of the Party Whip, UNP General Secretary Tissa Attanayaka said.
He added that the proposed reforms within the party had not come up for lengthy discussion at the committee meeting but a progress report by former MP Thilak Marapone on the draft of the new constitution had been submitted for scrutiny.
He told reporters at a news briefing that the reforms will be implemented within the next ten days and would entail delegating responsibilities to younger remembers of the party while the new constitution would be submitted for approval to the UNP's annual convention which will be held in December.
Meanwhile the rebel members of the UNP who were threatening to sit as an independent group in Parliament have decided to suspend their action for ten days after it was decided at the party's working committee meeting held yesterday that reforms would be set in motion soon.
Kurunegala district MP Dayasiri Jayasekera who attended yesterday's meeting said there had been an appeal from other members of the working committee as well, to give time for the reforms to be set in motion.
"Everyone is keen to come to some settlement so we will wait for another ten days by which time the reforms will begin," Mr.Jayasekera told the Sunday Times.
Meanwhile the working committee also decided to suspend the party memberships of four UNP MPs - A.R.M.Abdul Cader, Manusha Nanayakkara, Upekha Swarnamali and Nimal 'Nilwala' Wijesinghe - who voted in support of the 18th Amendment disregarding a party decision to oppose it.
It was decided that the disciplinary committee of the party would send them charge sheets as well.
With regard to MPs Lakshman Seneviratna and Earl Gunasekera, the UNP decided to seek legal advice as their expulsion from the party has been stopped by an interim order given by the Colombo District Court, Mr.Attanayaka said.
The party has also decided to sever ties with two other members P.Digambaram and Sri Ranga both of whom contested under the UNP ticket after they entered into an election pact but later decided to support the Government on the 18th Amendment. With regard to MP P. Ganeshan who also joined the government side, the UNP General Secretary said that they were watching what action is being taken against him by his own party before acting against him.