What is Glycaemic index?
Glycaemic Index (GI) is a number that indicates the blood glucose raising potential of digestible carbohydrate rich foods. All digestible carbohydrates in the foods or diet eaten (starch, lactose, sucrose) are converted to glucose and thus gives rise to a transient increase in blood glucose levels. However, the rate of increase in glucose after ingestion varies for different foods depending on a number of factors, i.e. sometimes for different foods containing the same amount of carbohydrates.
What are low, medium and high GI foods?
Depending on the blood glucose raising potential, different foods (against a glucose solution) are classified as low (GI <55), medium (56 >GI<69) or high (GI >70) GI foods.
Carbohydrates in foods are digested at different rates releasing glucose into the blood stream. Foods that have low GI are digested slowly and release glucose in to the blood stream slowly after a meal leading to a lower glycaemic response while high GI foods are digested faster and release glucose rapidly.
Glucose in blood stimulates secretion of insulin hormone (from the β-cells of islets of Langerhans of pancreas) which is responsible in clearing glucose from the blood by stimulating peripheral cells to take up glucose.
Thus a lower glycaemic response usually leads to a lower insulin demand and may improve long-term blood glucose control and also the blood lipids as high blood glucose levels can lead to high blood lipids.
What dietary/food factors affect GI?
The GIs of foods will depend on various factors. The protein, lipid, dietary fibre (undigestible carbohydrates) contents, starch granule structure & entrapment and method of processing are some of the major factors that affect the GI. Increased dietary fibre content has been shown to reduce the GI of Sri Lankan meals. Studies had further shown the benefits of both the increased quantity and sources of fibre in rice meals.
The glycaemic response of high GI foods can be lowered by including low/medium GI foods (eg: high GI rice/bread/string hoppers with curries prepared with legumes (lentil/chickpea curry)). The legumes have slow release (lente) carbohydrates and are beneficial in controlling the glycaemic response. Also noticed were that the foods subjected to wet heat processing (boiling, steaming) tended to elicit higher GI values than the foods that are subjected to dry heat processing (roasting).
Glycaemic Indices of Sri Lankan foods
Among the Sri Lankan foods studied boiled legumes (chickpea, cowpea, mung beans), roti varieties (prepared with wheat flour/atta flour/rice flour/kurakkan (millet) flour/ madu flour/kitul flour and coconut scrapings), boiled jak fruit (Artocarpus heterophyllus) and breadfruit (Artocarpus altilis) eaten with coconut, raja ala (white and violet) tubers with coconut scrapings and very importantly a rice meal (raw red rice, gotukola, dhal curry and an egg) had low GI. Commonly consumed banana varieties (Kolikuttu, Embul, Anamalu, Seeni) are also low GI. Interestingly pittu made with madu flour also had low GI in contrast to other pittu varieties.
However, bread (white, brown), pittu varieties prepared with wheat flour/ rice flour, hoppers, string hopper (wheat flour/ rice flour) meals, manioc with coconut sambol, buthsarana tubers with coconut scrapings, and red rice only with "kiri hodi" were classified as high GI foods.
Among the foods studied Hulankeeriya tubers eaten with coconut scrapings, pittu made with kurakkan (millet) flour, brown bread eaten with a dhal curry taken as breakfast meals produced a medium GI. Brown bread eaten alone had a high GI whereas when given with a dhal curry produced a medium GI.
The GI of typical Sri Lankan foods are now available at http://www.nrc.gov.lk/SAG/index.html.
What is GL and why is it important?
When the GI of any food is determined the portion size ingested contains 50g of digestible carbohydrate and sometimes this portion can exceed the normal serving size of a meal and vice versa (eg. brown/white bread when given alone, kurakkan pittu & roti). Thus Glycaemic Load (GL) concept was introduced later to apply the GI concept to a normal serving size of a meal.
GL is the product of a food's GI and the total available carbohydrate content of the actual portion size. Thus some foods that give a high GI when taken in normal portion sizes would give rise to a lower glycaemic response. Thus it is better to calculate the GL using the GI rather than using only GI to guide the food choice.
Importance of GI/GL in disease prevention
The prevalence of diabetes has risen more rapidly in Asia than any other part of the world. The diabetes prevalence in Sri Lanka is reported as 16.4% and 8.7% in urban and rural areas respectively. Further the prevalence of pre-diabetes among urban and rural populations is stated as 13.6% and 11.0% respectively further stressing that "one in five adults in Sri Lanka has either diabetes or pre-diabetes".
Furthermore, an increase in incidence of type 2 diabetes among children and teenagers in Asian countries extends this health issue to the next generation. Thus, effective intervention methods and early prevention strategies are needed to combat this health issue before long.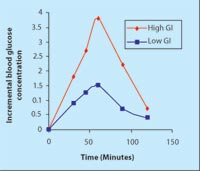 Glycaemic responses following ingestion of low and high GI foods
Scientific evidence shows that individuals who follow a low-GI diet over many years are at a significantly lower risk of developing both type 2 diabetes and coronary heart disease than others. High blood glucose levels or repeated glycaemic "spikes" following a meal may promote these diseases by increasing oxidative stress and also by the direct increase in insulin levels.
Hyperinsulinaemia (increased levels of insulin in serum) is recognized as a risk factor for many health issues. High GI foods that lead to insulin resistance are reported to be associated with risk of development of colon, colorectal, breast, prostate and ovarian cancers.
GI values are primarily used to guide selection of foods for diabetic patients but is also beneficial for healthy individuals. The Food and Agricultural Organization (FAO) suggested the intake of low GI foods for hyperglycaemic, hyperlipidaemic, obese as well as healthy persons. Diabetes which is considered as an age related disease can be prevented by consuming a diet with special emphasis to the GI/GL starting from an early age and also prior to and during pregnancy in order to give birth to a healthy child.
(The writer is a member of SLAAS Section A)