Are you a mango lover? And do you long for the mango season so that you can relish the heavenly taste of a juicy kartha kolomban? The good news is that that long wait for the season to come is now over- with a special mango variety available in the local market. This type actually bears fruit eight months of the year.
The new mango variety which has hit the market lately is a special mixed variety of the local Kartha kolamban which is endemic to Jaffna and the famed Indian Alphonso mango, says the Manager Administration and Marketing Nelna Agri Development Pvt. Ltd Wasantha Warusapperuma. It is only available in Sri Lanka. Nelna Agri Development, a subsidiary of the Nelna Group of Companies, a leading poultry manufacturing company in Sri Lanka, is currently cultivating this variety in its farms as one of their major projects. The fact that it is not seasonal is what sets it apart from the rest.
TEJC as the mango is known is named after its creator Tom Ellawela Juan Carlos - owner of the Galkiriyagama farm in Dambulla. Grown under dry conditions in places in Uva and the North Central region, TEJC looks like a foreign fruit in appearance and is bigger than the normal mano. The fruit has a unique taste and fragrance and weighs about 800 gms-1kg, says Mr. Warusapperuma.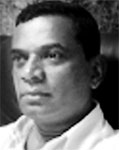 Warusapperuma
"Investment to cultivate this mango variety is higher than on others. Our agri development company started cultivating this variety in three locations in Ambilipitiya - in Thalawa, Hingura and Thunkama.
An important fact is that we do not use chemical fertilizer for our mango cultivations but Nelna compost instead," Mr. Warusapperuma said adding that traditional methods are used to tackle fruit flies and fungus.
Once cultivated, the first crop will be within three and half years after which the tree will bear fruit eight month of the year. One tree produces about 200 fruits per year. The tree is very small, therefore handling is very easy, Mr. Warusapperuma went on to explain.
According to him, there is a big demand for this mango variety from Europe but the company has still not gone into export as the demand from the local market is high.