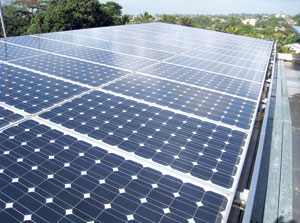 Solar panels on the Nikini building
Nikini Automation Systems (Pvt) Ltd. Recently broke new ground by making inroads as the country's first ever solar photovoltaic installation to enter into a Net Metering Agreement with local power utilities. According to a press release, the agreement for Net Metering was entered between the Ceylon Electricity Board and Nikini Automation Systems (Pvt) Ltd. Nikini has been a pioneering automation technology partner for leading industrial clients in Sri Lanka with high quality state of the art products and services.
Nikini Solar (PhotoVoltaic) PV Plant was constructed without any grant to promote the concept of grid connected solar PV. Spreading over an area of more than 2000 square feet the solar modules generate and feed power for the daily operations of Nikini Head Office Building.
The excess is fed to the national grid. Under the Net Metering Agreement the amount of excess energy fed to the Ceylon Electricity Board power lines will be recorded on a special type of meter called the Net Meter, the press release said. Installed with highest quality and robust components in the world the Solar PV Plant has the capacity to produce energy for more than 20 years, saving carbon emissions.
The Solar PV Plant improves the Carbon Footprint. The Ceylon Electricity Board has extended its fullest support for grid connection procedures for solar PV plants.