Everyone of us has suffered a sore throat at some point and probably blamed it on 'tonsils'. But, every sore throat is not tonsillitis: tonsillitis needs more attention than 'any' sore throat. This week Dr. Bandula Bandaranayake, Consultant ENT Surgeon at the General Hospital, Kegalle, speaks to MediScene on tonsillitis and tonsillectomy and the surgical removal of tonsils.
Sore throat occurring with high fever, usually above 390 Celsius is the hallmark of tonsillitis. Painful swallowing, sometimes even with drooling of saliva especially in children adds to the agony of the condition. Apart from the throat symptoms the child will be generally unwell with malaise, body aches and generalized weakness.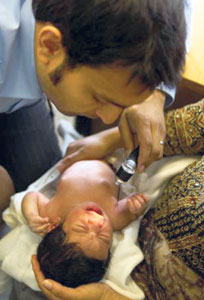 Courtesy Getty images
The throat can be seen to have enlarged tonsils, the two glands seen at the back of the throat, and with yellowish spots on the surface. Sometimes you may be able to feel a painful enlarged 'lymph node' in the upper neck. However, it could be difficult for you to identify tonsillitis especially in the early stage, as 'yellowish spots' do not appear very early.
The possibility of viral infection occurring with the same symptoms is also present, but generally viral sore throat causes neither very high fever nor yellowish spots over the tonsil.
Viral sore throat and tonsillitis due to viral infections are commoner than tonsillitis caused by bacteria. Viral disease only needs symptomatic relief like rest, pain killers and gargling with salty water or antiseptic gargle to relieve the symptoms.
But bacterial and viral tonsillitis can hardly be differentiated from each other with the methods that are in clinical practice today. Therefore it is wise to take treatment for tonsillitis to avoid further complications. Mild throat discomfort with low grade or absent fever will point to just a viral pharyngitis (throat infection) and you do not need to panic.
"A full blood count is important in every suspected case of tonsillitis," says Dr. Bandaranayake, stressing that tonsillitis could be a manifestation of other disease processes. Though uncommon when compared with the numbers of 'simple' tonsillitis, patients with low immunity could present as tonsillitis.
This could happen as a side effect of certain medication or in diseases that suppress the immune system and white cell production. It is important to identify tonsillitis that occurs due to low immunity as it may point to some other underlying disease.
Other investigations necessary would depend on the individual. A bacterial tonsillitis not due to low immunity will usually warrant no further investigations.
Treatment
The important point to remember is that patients need treatment for the proper duration, and this is 10 days for tonsillitis. A five-day course of antibiotics alone is not advised in tonsillitis. Some of us would tend to stop taking medication when the symptoms ease. This can enable the bacteria causing tonsillitis to be viable in the throat causing repeat infection or other complications.
Complications
The rare but most dreaded complication of tonsillitis is Rheumatic fever. This usually follows bacterial sore throat in children between the ages of 5 to 14 years. Adults can get affected when they already have had one episode of rheumatic fever during childhood. A first episode of rheumatic fever in adulthood is rare. Children who get one episode of rheumatic fever tend to get recurrent episodes and this condition would affect mainly the heart.
Yet, this sinister complication can easily be prevented by taking treatment for throat infections for the proper duration. Ten-day antibiotic treatment is mandatory for a child with tonsillitis.
Children/ adults who have had rheumatic fever need antibiotics for longer durations to prevent bacterial throat infections. Fortunately, rheumatic fever is now only rarely seen in our country even though it is said to be commoner in developing countries.
Some people can develop tonsillar abscesses, where pus is collected in the throat close to tonsils. This needs antibiotics to be supplemented with pus drainage. In a cooperative adult, this will take only few minutes, under local anesthesia.
Tonsillectomy - When and Why
The majority of children who suffer from tonsillitis outgrow the problem with age. A few attacks of tonsillitis are usual in childhood and only a few children do get tonsillitis very frequently. Some may be troubled due to enlarged tonsils causing breathing problems. This can manifest as snoring or even episodes of 'apneoa' i.e a condition in which the child snores loudly and stops breathing temporarily at intervals during sleep.
In such instances tonsillectomy or surgical removal of tonsils will reduce the impact of those problems on your life. Other indications include: inability to swallow properly because of enlarged tonsils; "hot potato" voice (breathy voice) and other speech abnormalities due to enlarged tonsils.
"There are definite indications for tonsillectomy, but we have to decide on tonsillectomy depending on the individual. If the decision for surgery is taken on firm grounds, there will be marked improvement in the patient's quality of life," says Dr. Bandaranayake.
Tonsillectomy is a safe procedure, lasting about an hour including anesthesia and recovery. Even though people are worried about bleeding, extensive bleeding is almost unheard of in recent years, due to improved surgical techniques.
Following tonsillectomy, the patient can have pain up to one week. Adequate pain relief is mandatory, so that patient can eat and drink normally. This hastens the recovery.
Tonsillitis does not occur following tonsillectomy, even though the procedure does not protect you from getting a sore throat. The pain in this procedure is said to be comparable to a bad attack of tonsillitis. Thus it is said that tonsillectomy can be considered the 'last attack' of tonsillitis which could be a great relief for someone who is troubled by repeated episodes of tonsillitis.
General precautions after surgery
1. Avoid going to crowded places for 10 days
2. Take food and adequate liquids
3. Pain relievers that you need to take regularly will be precribed
4. If there is high fever or bleeding from the throat, see your doctor immediately
5. Have a check-up in two to four weeks
When having tonsillitis you need:
To rest
Pain relievers; Paracetamol ( stronger pain killers may be necessary with advice from your doctor)
Adequate water/ liquids
Continue medication as prescribed even if the symptoms improve in two to three days