They, quite simply, love to dance. Some of the stuff they do looks almost impossible, spinning on heels, hands and heads, they defy gravity. But behind that seeming effortlessness is a whole load of hard work. Over the 8 years since they founded the AB Crew (the AB stands for Arlesheim Breakdance) Roman Vollmin, Simon Maass, Sebastian Rajakaruna, Lukas Bloch, Ayket Pektemek, Pablo Dillier and Jannik Waiz have continued to make training a priority. Sebastian says they practice five days a week, and teach young dancers as well. They were in Sri Lanka last week to lead a series of workshops and to see the country.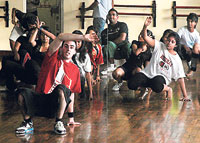 If you miss the workshop, you can still see videos of them performing at www.abcrew.ch. "It's fun, but it's difficult to learn. You have to train a lot," says Roman. "It's a challenge, you have to put your mind to it," Simon adds. The team is quite tightly knit. "We are all friends, we are from the same town," Roman explains. He says that they got together in school and started hanging around together. Having seen video clips and other friends performing, they all wanted to master break dance. "We all experienced this 'wow!' effect," says Simon.
When a dance competition in a neighbouring town was held they decided to participate and have kept the team going since then. At that time, the eldest was 17, the youngest 13. Since then the group has tried to incorporate multiple influences into their dancing and they like to play around with their music selection. "We do our own music mixes," says Simon, explaining that they create these on their home computers. The years of dedication have paid off though - members of AB Crew have danced for audiences in the U.S and in Germany, among other places, but this will be their first time in Asia.
Dancing is by necessity a hobby. Sebastian says he plans on juggling his studies with his dancing. All the boys are either studying or working. No one can afford to devote themselves to do this full time. However, programs like Dancing with the Stars, have kindled an interest in ordinary people and AB Crew's studio is one of the places you can go learn break dance and hip hop. Explaining that they have students as young as 6 (Roman starts them off with hand stands) they say that there's no age limit to dancing.
Join AB Crew for a session today (18th) at the Maharagama Youth Centre Auditorium from 2pm to 6pm. Entrance is free.