Eshantha Peiris' first solo concert tonight (July 18 at the Lionel Wendt theatre at 7 p.m.) since he returned to Sri Lanka in 2008 is also his most ambitious. His last concert in 2005 honoured German composer and pianist Johannes Brahms, but with 'Evocative' Eshantha has chosen not to limit himself to any one artist. He will feature the work of not only of venerable western composers but contemporary Sri Lankan musicians, and will straddle diverse cultures, styles and eras. Eshantha's playing on an acoustic piano will be complemented by a video projection created by Bimali Mudunkotuwa especially for the concert.

It's far from Eshantha's first time on stage. The young musician is an intrinsic part of the Colombo music scene and is involved in a number of projects – most notably the fusion band Thriloka. He is director of the Contempo choir, and co-director the Old Joes choir: both groups have upcoming performances in August. He will be conducting the Symphony Orchestra of Sri Lanka for their Christmas concert later this year. You can also find him at the 'Big Ears Music Series.' Held every other Thursday at the Arts campus on Horton Place, these live performances provide a space and an audience for musicians wanting to experiment a little.
Eshantha himself is a firm believer in playing out of the box. He is currently interested in the North-Indian 'Raga' music-system – "it's turning out to be an entirely new way of approaching music for me," he says. He continues to experiment on an electronic keyboard and has dabbled in playing the violin. With a Bachelor's and Master's degrees in Music Performance and Composition at New York University's Steinhardt School, Eshantha can pick and choose his gigs, but he intends to stay in Sri Lanka for the foreseeable future. "In my opinion, there's so much potential here for artistic creativity," he explains.
In the meantime, Eshantha is 24 years old and loving it. "It's a good age to be, I think: I'm old enough to have seen how the world works, but still young enough to be optimistic about changing things."
How did you select the compositions you'll be playing at 'Evocative'? Why did you decide to have Rohan De Livera compose a piece especially for the concert?
Well, when I first started putting this concert-programme together, my first thought was to challenge myself by looking for music composed in styles that were beyond my comfort-zone (in terms of piano-playing) at the time. I was also consciously trying to compile a contrasting set-list that incorporated diverse cultural influences. Which might explain how I ended up with compositions by Debussy (French impressionism), Astor Piazzolla (Argentine tango), Manuel de Falla (influenced by Spanish flamenco) and Dinuk Wijeratne (based on North-Indian rhythmic structures)...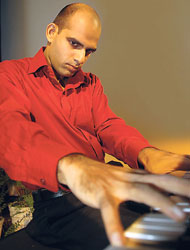 I was also interested in performing something new: I had previously heard and liked the music of Sri Lankan composer Rohan De Livera, so I hunted him down on facebook, and asked him if he could also write something for me to play for this concert. He obliged by composing 'The Nokia Variations', which is an almost-satirical piece based on the infamous Nokia ring-tone (easily the most fun part of the programme, in my opinion…).
Professionally, what was the best thing to happen to you this year?
Hmmm, I think it would have to be the creation of the new Thriloka album, 'Nirmanarathiya', which we recorded in May. On a personal level, I was able to experiment with a few different musical influences that I had assimilated over the last couple of years. It was also an opportunity for me to work with the sonic possibilities of contemporary electronic-keyboards; something which I hadn't really got into until this experience. Also, most importantly, it was a chance to produce something original with like-minded friends in an open, creative atmosphere.
What has your experience of working in Sri Lanka been like? What have been the pros and cons of being based here?
E: It's been fun; definitely, I think the tropical climate helps... On the plus side, there's very little competition for musicians here, which means that there's no fighting to stay employed (or at least there shouldn't be), and audiences don't get spread too thin. That being said, the lack of competition also means that one has to create one's own inspiration/challenges/incentives to develop etc. In a way, trying to build a culture of creativity from scratch may turn out to be more feasible than trying to change established patterns of thinking… so I'm quite optimistic in this respect
You've spoken of founding a music school here. Will that become a reality soon?
E: Yes, the school, Musicmatters, which I'm co-directing with drummer Sumudi Suraweera, is opening this September in Borella. What we're basically trying to do with Musicmatters is to increase an appreciation for creative music-making (of any genre) over the next generation of local musicians and audiences. So yes, teaching children to play instruments – with an emphasis on group playing and regular public performance – is a significant aspect of our mission.
That being said, learning doesn't end with childhood, and we will also be catering to both adult amateur and professional musicians. Incidentally, we're having an Open-day at the school next Sunday, (July 25th), for those interested. More information is available on our website <www.musicmatterssrilanka.com>. Tickets for Eshantha's concert tonight (priced at Rs. 1,000, 750 and 500) are available throughout the day at the Lionel Wendt.
'Evocative' is on at the Lionel Wendt today, July 18. Tickets for the concert priced at Rs. 1000, 750, and 500, are available throughout the day at the Wendt. The Sunday Times is the print media sponsor for the show with Yes FM and Channel 1 MTV as the electronic media sponsors.