SRINAGAR, India, July 17, (AFP) -Schools, shops and offices reopened in Muslim-majority Indian Kashmir on Saturday after being shut by weeks of anti-India protests but more closures loomed in the restive region.
The reopening came after calls by separatists to resume normal life for a day that sent shoppers flooding into the streets and created traffic jams in downtown Srinagar, urban hub of a two-decade insurgency against Indian rule.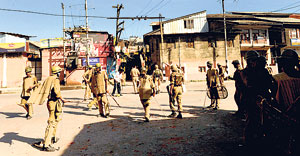 Kashmiri police take positions during a protest in Srinagar on July 16. AFP
"Thanks be to Allah -- my two daughters went to school today," said bank. employee Shaheen Ameen, and appealed to separatists to spare educational institutions from being included in strike calls. The scenic Himalayan region has been wracked by demonstrations since June 11 when security forces were accused of killing a 17-year-old teenage boy.
Since then, another 14 protesters and bystanders -- many of them youngsters -- have been killed.
As violence spread, authorities slapped rigid curfews on most of the region, arrested activists and ordered the army into the streets to stage show-of- strength flag marches in Srinagar, summer capital of Indian Kashmir.
Separatist strikes to denounce the killings, coupled with spontaneous protests, have crippled life in the Kashmir valley over the past few weeks.
Separatists told residents to resume "their normal work on Saturday" and most schools, colleges, shops and businesses reopened, returning an air of normalcy to Srinagar after curfews had left its streets deserted.
"I had no money left. But Allah is great, I've been doing great business since the morning," said shopkeeper Abdul Gani, 78, who sells groceries and cigarettes. But the separatists have called for more strikes and protest marches starting on Sunday with a general strike.
The anti-India insurgency in the part of Kashmir governed by New Delhi has claimed an estimated 47,000 lives.