SYDNEY, July 17, (AFP) -Australian Prime Minister Julia Gillard called an August 21 election, vowing to tackle the flashpoint issues of refugees, the economy and global warming, just weeks after taking power.
Gillard, 48, said she would ask the Australian people to endorse her leadership after she ruthlessly deposed former prime minister Kevin Rudd in a party coup.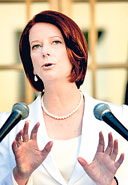 Julia Gillard talks at a news conference in Canberra July 17. Reuters
"Today I seek a mandate from the Australian people to move Australia forward," Gillard said, officially kicking off the five-week campaign. "This election I believe presents Australians with a very clear choice -- whether we move Australia forward or go back."Australia's first woman prime minister said the nation had "come too far as a country and evolved too much as a society to risk the kind of backward looking leadership" offered by her conservative opponent Tony Abbott.
The former industrial lawyer laid out her case for re-election on the issues of asylum seekers, economic management and climate change, painting herself as a progressive optimist who was "asking the Australian people for their trust."But -- after just three weeks in office in which she insisted she had made some "big strides forward" -- she warned it would be a "very close election" and that a "close, tough, hard-fought campaign" lay ahead.
She faces an uphill battle to deliver the centre-left ruling Labor party a second three-year term in office, after a spectacular fall from the dizzying heights of popularity it enjoyed for its first two years in power.