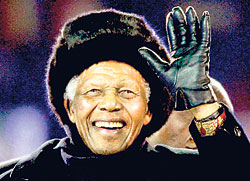 Photo taken on July 11, 2010 shows former South African President Nelson Mandela greeting fans before the 2010 World Cup football final between the Netherlands and Spain in Johannesburg.(AFP)
JOHANNESBURG, July 17, (AFP) -Anti-apartheid hero Nelson Mandela celebrates his 92nd birthday at home with his family on Sunday, just one week after the World Cup showed off the successes of democratic South Africa.
"The man who has suffered so much and who, when he came out (of jail) set out to bring peace, solidarity and humanity, he had a dream, and his dream was to see the World Cup in his country," FIFA president Sepp Blatter said this week.
"That dream has now come true."After spending 27 years in an apartheid prison, Mandela emerged in 1990 to lead South Africa to elections that made him president in 1994.
He stayed in power for only one term, but even out of office remained one of the driving forces behind bringing the World Cup to South Africa.