The influential "mafia" that is profiting from the high prices of fish will soon feel the pinch when the Ceylon Fisheries Corporation swings into action with counter measures to bring down fish prices.
The Minister of Fisheries, Dr. Rajitha Senaratne, told the Sunday Times that certain parties within the Ministry and the Ceylon Fisheries Corporation are working closely with private traders, and that this "mafia" is manipulating prices.
"For a long time now they have been setting artificial prices, without the corporation's consent. These parties inside the corporation are working closely with the traders," he said.
According to Minister Senaratne, owners of Sri Lankan fishing vessels buy fish from Indonesian fishing vessels operating in waters close to Sri Lanka. The fish is bought at between US$3 to US$4 a kilo and sold at a profit to Sri Lankan exporters. In a bid to check this illegal practice, the Ministry of Fisheries will import more than 200 trawlers, which will be used exclusively for fishing purposes so that local exporters can buy fish at a lower price.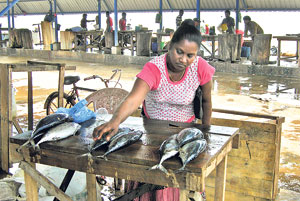 Fish market in Negombo. Pic by Athula Devapriya
The first consignment of 50 trawlers is expected in a month's time. Ten per cent of the volume of fish netted will be given free of charge to the Fisheries Corporation for domestic distribution, and another 10 per cent will be sold at the market price.
The Fisheries Corporation also plans to re-enter the market in order to sell directly to the customer, at between 35 to 40 per cent less than the market price.
The corporation has already opened outlets in Ratmalana, Narahenpita and Eheliyagoda, and from next week there will be stalls at all Laksathosa outlets.
"Prices have come down by about 20 per cent, which is good, considering that this is monsoon time, when fish prices are usually high. We expect to bring the market for fish under control within three months," the Minister said.
"For a long time now they [the mafia] have been setting artificial prices –without the corporation's consent. Parties within the Fisheries Corporation are working closely with the traders." - – Dr. Rajitha Senaratne, Minister of Fisheries
Fisheries Corporation chairman M. Senaratne said private dealer activity and limited stock have contributed to the high prices of fish in the local market. He said fish stocks from the North and East have only just begun to arrive in the South, while bad weather conditions have affected fishing in many parts of the country, resulting in shortfalls.
"Fishermen in areas experiencing heavy rains cannot go out to sea as much as they would like. This has caused a shortage and fish prices have gone up," he said.
A shipment of 55,000 kilograms of imported tuna is expected in the next few days, Mr. Senaratne said. "This should stabilise prices towards the end of the week. Tuna will be sold at between Rs.420 to Rs.450 a kilo. The current price is around Rs.850."
The Ceylon Fisheries Corporation, the Ministry of Fisheries and the Ministry of Trade will jointly set up fish sales outlets at Laksathosas and Economic Centres around the island. The corporation will buy and sell at low rates, while maintaining a marginal profit. "Market prices must be stabilised, and to do that you have to establish a chain, which is what we are doing with the Laksathosa outlets," he said.
The Ceylon Fisheries Corporation sells to traders at a much lower rate than the market price, Mr. Senaratne pointed out. Currently, popular fish varieties – including seer (Spanish mackerel), tuna and balaya (skipjack tuna) – are being sold by private traders at between Rs.300 and Rs.400 more than the corporation prices.
The corporation has so far collected around Rs. 350,000 from its Eheliyagoda outlet. Mr. Senaratne said the corporation intends to open some 100 outlets around the country, and that these would go a long way to help stabilise the market.
Meanwhile, exporters continue to deliver large consignments of fish to foreign buyers. Mr. Senaratne said the authorities are working closely with exporters to increase stocks for local distribution through the CFC.
The present arrangement is that exporters give 5 per cent of their catch (mostly tuna) to the Fisheries Corporation to be sold for domestic consumption. The authorities and the exporters have agreed to increase the volume to 10 per cent, at Rs.115 per kilo (of tuna).
Fishermen and traders expect prices to come down when the rainy season is over and the volume of fish entering the market increases. Traders in the Negombo fish market told the Sunday Times that prices should stabilise by October.
Stocks of fish start to increase from August to October, according to the Sea Street Kudapaduwa Fishermen's Federation. At present, bad weather conditions have pushed up prices by as much as Rs. 100 a kilo. A kilo of hurulla (a variety of herring) that costs Rs.40 can shoot up to Rs.140 overnight.
The catch in the last few days has been disappointing, the Negombo fish traders said. Heavy rains have prevented most of the fishermen from going out to sea.
Prices put up at stalls can swing up and down like a fishing craft tossed about on a stormy sea: one stall will sell seer at Rs.800, while another sells at Rs. 1,000. Hurulla will be Rs.80 a kilo at one stall, and Rs. 220 a few stalls further up. Price differences reflect varying quality of stock, traders say..
Fish from Jaffna and other parts of the North are slowly entering the Negombo market and helping to offset limited supply and stabilise prices.