Senior journalist Vilma Wimaladasa, who started her professional career in the "old" "Times of Ceylon" in 1953, passed away at the age of 80 and was buried, according to her wishes, at a private funeral on Thursday.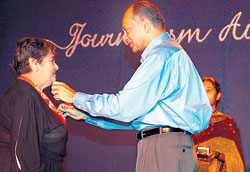 Vilma receiving her journalism award in 2006
According to family members, a rogue had entered her house a few days ago and he had pushed her when she confronted him. She fell, suffered a hip fracture and died after admission to hospital.
Vilma was a Miss Ziegelaar before she married U. Wimaladasa, also a journalist at the "Times" during the era of Editor Tori De Souza. Mr. Wimaladasa died a few years ago.
Vilma was the Sri Lanka correspondent of the London "Daily Telegraph". She was presented with the long service award by the Editors' Guild in 2006.
Vilma leaves her daughter Priyanthi and son-in-law Christo Vanderwert and their daughter Daniella all of Melbourne, Australia.