A Japanese-funded project to build toilets on the historic Sigiriya rock has been put on hold, Archaeology Department Chief Senerath Dissanayake said yesterday.
Dr. Dissanayake said the decision was taken following protests from villagers in the area and activists.
The protests came as construction went ahead in a discreet manner despite a previous assurance that it would be suspended. The toilets were to be constructed near the Sinhapaada (Lion's Paws) after an 'archaeological impact assessment' was carried out, he said.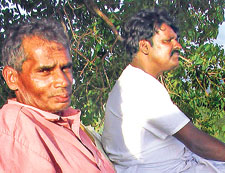 Two activists, site employee W.M. Wijeratne and wasps expert Deeman Ananda, staging a sit-down protest at the spot where toilets were to be built on the historic Sigiriya rock. These protests led to the suspension of the project. Pic by Kanchana Kumara Ariyadasa.
Dr. Dissanayake said he personally visited the site on Thursday on a directive from President Mahinda Rajapaksa to ensure that the project was stopped.
"A tourist takes about two hours to ascend and descend the Sigiriya rock. The lack of toilet facilities near the Sinhapaada area was becoming a problem. Archaeologists usually don't appreciate new structures being added to archaeological sites.
But there was a practical need there," Dr. Dissanayake said explaining why the department had earlier approved the project.
He said that though the project had been suspended, he and other archaeological official still believed there was a need for toilet facilities.
He said alternative would be the setting up of fiberglass mobile toilets in a manner that would not degrade the archaeological value of the site.