In 1921, the earliest Ranger Companies were formed in Kandy and Colombo. The following year, the first All-Island Rally was held at the Queen's House in Colombo.
As more officers were needed, a Cadet Branch was inaugurated in 1922, and senior members ventured out into wider fields of service, helping in prison work, in slums, and at children's play centres and crèches.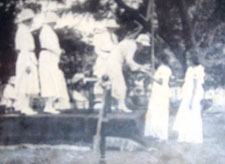 All Island Rally in 1922.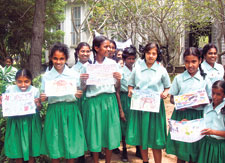 Differently Abled Guides
In 1924, the elephant was adopted as the emblem of the Association. The Branch for the Handicapped (now known as the Branch for the Differently Abled) was also started in 1924, and by 1925, 'extension' Guiding had started at the School for the Deaf and Blind in Ratmalana.
In 1927, Miss. Ray Blaze was appointed Vernacular Commissioner as she had much experience in rural welfare work. The work of translating the Guide Handbooks into Sinhala and Tamil was also begun.
The first vernacular Guide Company was opened at the
Sri Lankadhara Girls' School in Wellawatte, Colombo. Miss. Wijeratne was the first Guider to work with Guides whose mother tongue was Sinhala.
Guiding had become popular in the villages and many Guide companies were being established in the hinterland.
In 1928, the first national Girl Guide Headquarters was opened at No. 18, Baillie Street, Fort, Colombo.
Girl Guides celebrate World Environment Day …
A handicrafts exhibition with a difference was held at Girl Guide Headquarters on the 4th and 5th of June, 2010. Organized by the Projects Division of the Sri Lanka Girl Guides Association to commemorate World Environment Day, the exhibition showcased the talents of Little Friends, Guides, and Senior Guides who had created all the items on display.
The items were uniquely crafted from used or scrap materials such as coconut shells, bottle tops, pencil shavings and old curtain rings.