Colombo-based advertising agency Triad unveiled its full service virtual arm in Singapore on Friday in a bid to entertain its growing global clientele. Triadhot.com will be fully operational and accessible throughout the world which is ready to cater globally to those who believe in the power of cutting edge creative ideas while optimizing their budget. According to a press release, the agency said Triadhot.com offers creative solutions with strategic worldwide client focus, another innovation for Triad which has been servicing a wide cross section of clients within and out of Sri Lanka for two decades.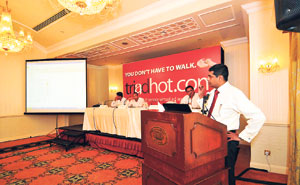 At the launch
The agency said that as an online platform, Triadhot.com operators on the premise of providing cost effective solutions, a convenient mode of creating communication material and customized professional services for all its clients regardless of the continent or time zones they are in. The press release stated that Triadhot.com is cost effective with back-end work being done in low operating cost and overhead locations such as Sri Lanka, India and Pakistan. It is convenient due to its virtual framework. The service also allows for customization where a specialized team of professionals come together according to the specific expertise required.
The virtual agency is complete in its service offering. A client can brief the agency through an email or Skype call and servicing personnel will interact with the client by presenting research findings, strategies, creative routes, ideas, visuals and story boards upon demand. In turn, the client can contribute and integrate their own ideas, feedback and creative contributions. Chief Operating Officer of Triadhot.com Sarva Ameresekere said the online interface is a very user-friendly portal that allows one to manage and perform tasks efficiently and transparently with built in communication and updating features.