With major economic contributions from the North East, Sri Lanka's economy is to bounce back and become a major trade hub in the South Asian region with the end of the 30-year-old terrorist problem boosting business opportunities in the war ravaged North East.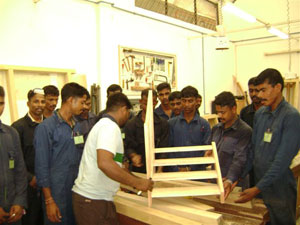 Ex-combatants during training
This prediction was made by Minister of Rehabilitation and Prison Reforms, Dew Gunasekera , who is also the Chairman / General Secretary – Communist Party of Sri Lanka, when he addressed the certificate presentation ceremony of 120 ex-LTTE combatants who successfully completed a vocational training programme, after their rehabilitation in Colombo on Tuesday.
The vocational training programme had been conducted at the Handwork Training Centre in Malegoda, Payagala providing the ex-combatants training in carpentry, electrical wiring, welding and masonry.
He pointed out that people in the Eastern Province have now begun to contribute to the national economy. The fishing and dairy industries in the region are growing fast.
As a result of the speedy infrastructure development work implemented under the Eastern Reawakening programme, people in the East could now send their produce faster to other parts of the country, he said. Fish and dairy products from the East are now available in markets in the South, opening new markets for the people who have been rescued from LTTE terror during the humanitarian operations in the East.
He revealed that the contribution of the East to the national economy is around 4% to 6% of the GDP. Mr. Gunasekera noted that an unprecedented development programme is being implemented in Hambantota in the South making the area a strategic economic location in the island. The construction work of the Mahinda Rajapaksa International Conference Hall and the new administrative complex are nearing completion at a cost of Rs.2 billion with Korean assistance. Sri Lanka will host a Commonwealth Heads of Government conference 2013 at this hall in the southern town of Hambantota which will also be attended by Britain's Queen Elizabeth, he said.
In order to build capacity of conflict affected people to pursue the livelihood and economic activity of their choice, these ex-combatants who either surrendered to the forces or captured by forces and currently under the Office of the Commissioner General of Rehabilitation, successfully concluded a 100-hour residential vocational training in construction industry-related fields.
The rehabilitation programme had been initiated by the FCCISL CHEER (Chamber Network Engagement in Economic Rehabilitation) project which is funded by the European Union. OXFAM, together with FCCISL and its member district Chambers of Commerce and Industry of Ampara, Batticaloa, Trincomalee, Vavuniya and Mannar had implemented the training programme, said the President of FCCISL Kosala Wickremanayake.