'Suwanda Denuna Jeewithe' (Fragrance of Life) the maiden directorial venture of producer Dhammika Siriwardena will be released on EAP circuit cinemas from June 11.
Starring Roshan Ranawana and Pooja Umashanker in the lead roles, the movie revolves around a love story between a wealthy young man who finds an ordinary girl when he was suffering from the want of 'true love'.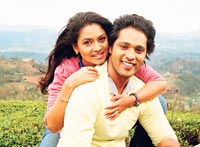 Pooja and Roshan in a scene from 'SDJ'.
Ayeshmantha son of a wealthy businessman runs his father's businesses. He had fallen in love with a girl and she one day shocks him by handing over her wedding invitation. Deeply disturbed by this the young man looses his interest in everything including the businesses and leaves home. While roaming aimlessly he goes to the extent of committing suicide.
It is at this point he accidentally meets Rashmi who saves him and changes his mind. Rashmi takes Ayeshmantha to her relatives and makes arrangements to keep him with them for sometime. He recovers from the unhappy past and returns home with the idea to restart businesses.
Meanwhile Rashmi who is getting ready for her marriage to Prasad comes across a similar experience of Ayeshmantha. Prasad refuses to marry her on a personal reason. This paves the way for a new relationship between Ayeshmantha and Rashmi with which the film develops through a series of interesting entertaining incidents.
Others in the cast include Maureen Charuni, Ramani Siriwardena, Rex Kodippili, Janak Premalal, Richard Manamudali, Ishan Gammudali, Dayadewa Edirisinghe, Gayathri Dias and Pubudu Chathuranga.
Behind the screen Jayantah Gunawardena handled the camera, edited by Ajith Ramanayake and art director is Lal Harindranatha.
Set in the popular formula, 'Suwanda Denuna Jeewithe' is shot in locations around Colombo, Nuwara Eliya, Ambewela and Mahiyanganaya.