Overcoming enormous obstacles and creating an artistic cinematic work, it is pathetic to see that young filmmakers were forced to go on begging for much needed financial support to release their creations.
Young filmmaker, Sumith RohanaThiththawalgala director of 'Sthuthi Newatha Enna' (Anticipating Re-arrival) is the latest victim who is awaiting a generous donor if not the assistance of the National Film Corporation (NFC) to get his film released by making copies for public screening.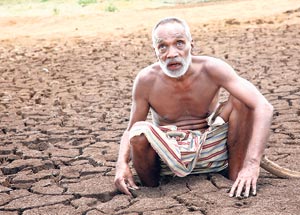 Hemasiri Liyanage in a powerful role.
"The release dates of my film had to be postponed twice as we had no money to make prints," says Sumith in a dejected tone. Appreciated by critics, the film has been submitted to a number of world renowned international film festivals including Lorcano Film Festival and Pusan Film Festival.
"This is a film set in the aftermath of the war and now it is the high time it is released. But we have been forced to wait as there are no funds," says Sumith. The film was scheduled to be screened on April 29 and it was postponed to May 14 as the copies were not ready.
Initially we appealed to the National Film Corporation (NFC) for a loan of Rs. 3 million and it was reduced to Rs. one million. But even then we have not got very far,' he added. When questioned on this, former NFC chairman, Jayantha Dharmadasa had said that if the money had been passed by the board it would definitely be given. Mr. Dharmadasa who headed the NFC for the second time also promised to inquire into the matter earnestly.
Filming in remote locations in Thanthirimale and Vilachchiya, the shooting had been completed in just 17 days. "Right from the beginning there were obstacles and we managed to overcome them. But fortunately and unexpectedly unknown people who realized the value of this film helped us," said Mangala Madugalla, the debut producer making recollections of Captain Kumara of Thanthirimale Army camp and the villagers around the locations with gratitude.
Set in the final phase of war, the film revolves around the shattered dreams of ordinary family members. But the film ends in a hopeful note as every human heart yearns for a dream to live for another day.
The film cast include Hemasiri Liyanage, Damitha Abeyratne, Bimal Jayakody, Jagath Beneragama, Jayani Senanayake, Mandasmitha Muduthepuli, Asela Jayakody, Ramindu Beneragama, Sampath Jayaweera and Mangala Madugalla who also plays the role of producer.
Making life into movies
An avid reader and writer, filmmaking was not a dream of Sumith Rohana Thiththawalgala. 'I was highly influenced by Mahagama Sekara's writing and writing was my first love' says Sumith describing his journey.
There are a few novels and short story collections to his credit and some of his teledrama screenplays are prescribed for the University of Jayawardanapura Mass Communication degree.
Sumith who did not continue his higher studies learnt from the self made university of experience of life.
"Some of the incidents that come in the film are part of my personal life. As a child I underwent a difficult time and my father being a farmer we have a lot of experience relating difficulties in agricultural life" he said.
Started as an assistant director for Eranga Senaratne's teledrama 'Adarawanthayo', Sumith's first teleplay with 16 episodes was 'Sasara Suwahas' telecast in 2003. Later he directed 'Sanda Gira' (2004), 'Aruna Kirana' (2006) and 'Sapiriwara' (2007) and a number of single episode telefilms.
"My teacher in cinema was the late Dr. Tissa Abeysekera and I was greatly influenced by him to do this film," Thiththawalgala said reminding of the late filmmaker and award renowned script writer.
Producer with a Russian touch

The producer of 'Sthuthi Newatha Enna', Mangala Madugalla took to cinema influenced by his love for Russian literature and culture. Having received a Master's degree from Moscow State University on Russian literature, today Mangala is a visiting lecturer in Modern Languages attached the University of Kelaniya.
"As a child with all I read from Russian literature going to Russia was my one and only dream. However this dream was realized in 1987 and I went to Russia for higher education and stayed for more than a decade.
"It was during my stay in Russia that I decided to contribute to a work of art in Sri Lanka. My first attempt was to do a teledrama with Dr. Tissa Abeysekera. But it was a failure and it was changed to a film when I met Sumith," Madugalla said.
"When I joined this project I didn't look for ways to make money but to present a quality artistic work to our audience" he added.
Mangala who also to loves act plays a role in the film.